HAWAII Magazine picks: Six great dinners on Oahu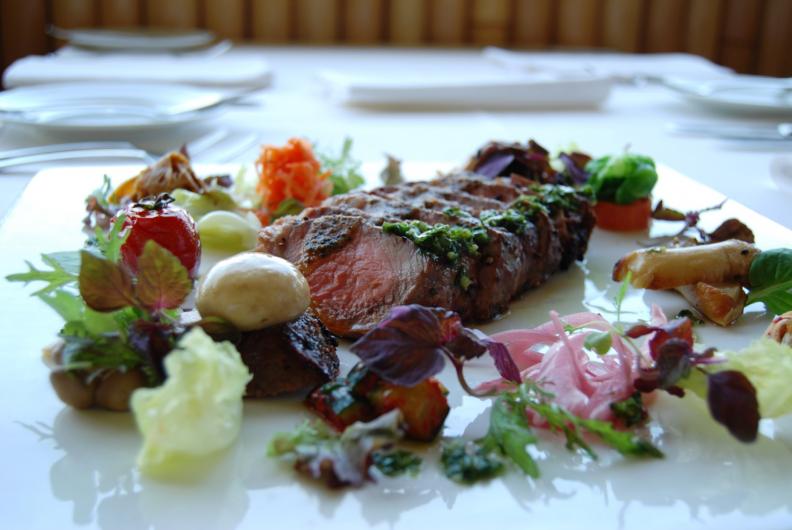 On vacation, many of us budget for at least one great dinner. You know, the kind that makes you feel you are really living—and sampling the best of the place you are visiting. Of all Hawai'i locations, Honolulu has the richest supply of outstanding restaurants, many headed by award-winning chefs.
If you're looking for one spectacular night out on O'ahu, here are our top six recommendations (in alphabetical order):

Alan Wong's Restaurant
1857 South King St.
(808) 949-2526, www.alanwongs.com
Chef Alan Wong is running out of wall space for his awards. These include 10 Restaurant of the Year honors from Honolulu Magazine and a 1996 James Beard Award for best chef.
Wong helped invent Hawai'i Regional Cuisine. If you want to eat local ingredients and sample the best of Hawai'i flavors, you've come to the right place. Wong's goal is to provide an authentic taste of Hawai'i. His menu reads like a roster of the state's best farmers and ranchers. Even the coffee menu tells you which farm grew the beans.
But long before coffee, you'll sample such delights as chopped 'ahi on Asian guacamole, butter-poached Keāhole lobster on crab dumplings, onaga (a prized local snapper) with a miso-black sesame vinaigrette, or a twice-cooked local beef short rib topped with a gingered prawn.
The entree pictured above? Wong's "bambucha steak"—a grilled 1 lb. rib eye from the Big Island's Kuahiwi Ranch.
Save room for pastry chef Michelle Karr's chocolate sampler: ice cream, crème brûlée, molten cheesecake, Hawaiian crunch bars and caramels, all made with chocolate grown in nearby Waialua.
Wong's is on the third floor of a nondescript office building a few minutes outside Waikīkī. Don't worry about finding it, every cab driver in town knows where it is.
At Chai's, you can sit outside amid flickering tiki torches, listening to the best of contemporary Island music, sipping a glass of wine from the extensive wine list and feasting on seared sea scallops in lobster pumpkin beurre blanc or quail stuffed with foie gras and Portobello mushroom.
Ah, Hawai'i.
You'll find a few Thai accents to the food here, grilled mahimahi in a Thai red curry sauce, for instance. That's because chef Chai Chaowasaree also owns Honolulu's most celebrated Thai eatery, Singha Thai Cuisine.
Chai's desire to extend his menu into Hawai'i regional flavors caused him to open this casual, yet elegant bistro in Aloha Tower Marketplace. Here he cooks from all the cuisines of Hawai'i, from Mongolian lamb chops to Chinese-style fresh whole moi, a fish once reserved for Hawaiian royalty.
In the above photo, Chef Chai's wok-seared jumbo black tiger prawns with Thai chili-ginger sauce.
"We're also glad to cook for vegetarians, vegans," says Chai, though he notes that it's helpful to call ahead if someone in your party would like a vegan meal. "That way we can do something special."
It's easy to find this restaurant at Aloha Tower Marketplace. Just listen, because there's live music every night, from masters such as the Brothers Cazimero and Danny Couch.
In Honolulu, everyone calls Chef George Mavrothalassitis simply Mavro. Despite his Greek surname, Mavro grew up in the south of France, and brings the focus and precision of a French kitchen to Hawai'i ingredients.
Chef Mavro is a stylish, personal little restaurant, where the chef cooks for only 50 or 60 lucky people a night. Dinner here is French style, with your choice of three, four or six courses, served with or without wine. You don't have to choose your wine here. Wines are served by the glass, and are chosen by Mavro and a panel of experts to match each individual course.
The menus change seasonally. Every three months, Mavro creates new dishes: Big Island abalone served with spiced, shaved vegetables. Lobster paella with saffron puff rice. A Wagyu beef strip loin with a green peppercorn sauce. Colorado lamb with curried Brussels sprout leaves.
Pictured above is Chef Mavro's meli-melo of spring vegetables—a du jour medley of whatever vegetables the chef finds best that day from Oahu's Ma'o Organic Farms, each prepared with a different recipe.
There's even a cheese course, usually something special like a Big Island goat cheese mousse.
Mavro's a master of desserts. In a town that loves the Portuguese doughnuts called malassadas, his are famous, filled with passion fruit, served on a guava puree with pineapple-coconut ice cream. Mavro may be French, but he's lived in Hawai'i for more than two decades and his flavors show it.
Say you have a large family or group traveling together. You need a spacious restaurant, a diversity of menu offerings, and you want everyone to have a full meal at a reasonable cost.
Welcome to Kai Market, the newest restaurant at the Sheraton Waikīkī, situated to provide a view of the hotel's new infinity pool and the Pacific Ocean.
Kai Market is a buffet, one of the most attractive we've ever seen. The restaurant buys its ingredients fresh from local farms. You'll find salad greens grown 20 minutes away on O'ahu's windward coast, asparagus from the North Shore, baby romaine from Maui, tomatoes from the Big Island, sweet potatoes from Moloka'i.
Those are not all the Hawai'i flavors you will encounter. The entrées, cooked in small batches, reflect the multicultural cuisine of the Islands: to name a few, miso-marinated Hawaiian sea bass, Chinese-style roast duck, Kona coffee-rubbed baby back ribs, Japanese yakisoba, local-style fried rice and even good old American prime rib, crusted in Hawaiian 'alaea salt. Pictured above, the Portuguese comfort food favorite Vinha d' Alhos—garlic, vinegar and wine-marinated pork.
The desserts—always a critical part of a buffet—are bounteous and include passion fruit flan, chocolate pot au crème with whipped cream and raspberries, gooey, rich sweetbread pudding, and the best, richest, freshest chocolate haupia pie we have ever tasted.
All of this seaside, with one child under 12 eating free for every paying adult.
Roy's Restaurant
Roy's Waikiki Beach, 226 Lewers St., (808) 923-7697
Roy's Hawaii Kai, 6600 Kalanianaole Highway, (808) 396-7697
Roy's Ko Olina, 92-1220 Aliinui Drive, (808) 676-7697
www.roysrestaurant.com
Roy Yamaguchi is Hawai'i's superstar chef—four cookbooks, a PBS television series, an appearance on Iron Chef USA, even his own line of cookware. He now has 32 restaurants, in Hawai'i and across America, on Guam and in Japan.
After early success in Los Angeles, Yamaguchi came to prominence when he returned to his roots in Hawai'i in 1988, creating a vivid cuisine that blends French, Italian, Thai, Japanese, Chinese and Polynesian influences.
His first Roy's, in the Honolulu suburb of Hawai'i Kai, remains his flagship. More conveniently for visitors, he's also opened a restaurant in the new Waikīkī Beach Walk development that has all the relaxed Hawai'i style and the dramatic flavors of his original.
We love Roy's appetizers—coconut-crusted shrimp, ponzu hibachi salmon, Szechwan spiced baby back ribs, lobster potstickers and (pictured above) ahi poketini. Among the entrées, don't miss the macadamia nut crusted mahimahi in lobster cognac butter or, if you're a meat eater, the soy-braised beef short ribs with Roy's mashed potatoes. It's hard to go wrong here: Even the meatloaf is exceptional. For dessert, we always order Roy's melting chocolate cake, with ice cream, of course.
A special bonus: Roy's is more reasonably priced than most restaurants of this quality.
This new steakhouse in Waikīkī's Royal Hawaiian Shopping Center somehow manages to combine the charm and comfort of an old New York steakhouse with a casual, open Hawai'i feel.
The menu offers wild-caught salmon and Chilean sea bass and lobsters, but the real star is the prime Black Angus steak, especially the porterhouse steak for two, three, four or more. The porterhouse, richly caramelized, is served sliced and sizzling on a platter, sirloin on one side of the bone, meltingly tender filet mignon on the other.
In the picture above is Wolfgang's surf 'n turf—a 9 oz. prime grade filet mignon and 14-16 oz. Australian lobster tail.
There are the traditional steakhouse openers (crab and lobster cocktails, oysters) and a not-so-typical one, the best, thickest slices of Canadian bacon you've ever tasted. Of course, there are traditional sides as well and, this being Hawai'i, a nontraditional one, white rice.
If you're not quite up to dinner at Wolfgang's, it's also open for lunch, which includes a hamburger that's essentially chopped steak.
A note: Some people will tell you wrongly this restaurant belongs to Wolfgang Puck. The Wolfgang here is Wolfgang Zweiner, a former head waiter for legendary New York restaurant Peter Luger's. Zweiner knows how to run a steakhouse.