HAWAII Magazine's 10 Helpful Spa Tips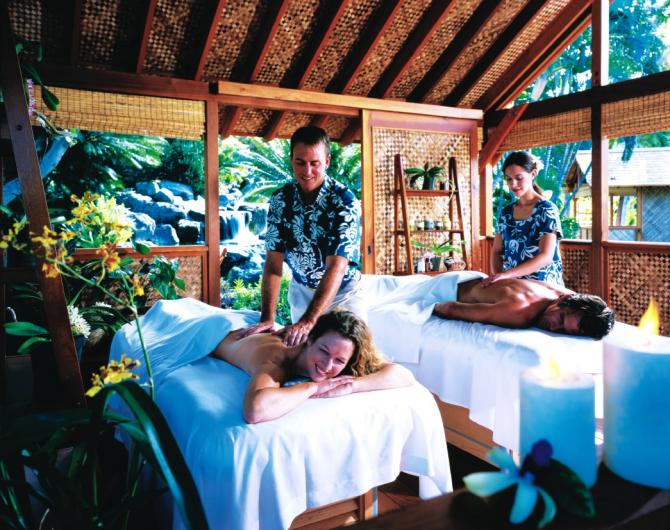 For the May/June 2008 issue of HAWAII Magazine, I indulged myself—at four secluded spas on the Kohala Coast:
• the Hualalai Sports Club & Spa at the Four Seasons Resort
• the Kohala Sports Club & Spa at the Hilton Waikoloa Village
• The Spa Without Walls at the Fairmont Orchid, Hawaii
• the Mauna Lani Spa at the Mauna Lani Resort.
I also had a relaxing experience that incorporated the use of Hana Naia Aromatherapy's oils and ointments, created by owner/spa therapist Maryann Rose Broyles. She used it during my Ayurvedic herbal foot bath and massage at the Hualalai Sports Club and Spa.
If the story inspires you to sign up for your own spa treatment, here are my 10 tips on how to make the most of your next spa visit.
1. Make your reservations ahead of time. Don't wait till you get to the spa to select your treatment. Appointments often fill up fast, so book them as soon as you can.
2. Arrive 20 to 30 minutes before your spa appointment. You'll want to have enough time to check in and change into your robe and slippers. One of the benefits of getting there early is that most spas will let you use their steam room, saunas or hot tubs for free. Or provide you with tea and soothing music.
3. Turn off your cell phone. In fact, don't bring it at all. You are here to relax, as are your fellow spa visitors.
4. Drink water before and after. A well-hydrated body allows therapists to work more deeply into your aching muscles. Sufficient hydration also helps remove toxins.
5. Learn about the treatments. Take the time to learn what type of treatments the spa offers. Many spas nowadays also offer couple's massage.
6. Give yourself enough time. Spa treatments may last for 20 minutes or three to four hours. Allow yourself enough time before and after your treatment. Don't rush off to the next thing on your schedule.
7. Remember your appointment. Most spas have a strict cancellation policy. If you're a no-show, you may end up paying anyway. If you arrive late, your treatment will be that much shorter.
8. Speak up. Let the staff know ahead of time if you're pregnant, have any medical conditions, allergies or special requests. Recommendations can be made based on your needs.
9. Clear your mind. Now's not the time to think about work or other responsibilities. If you can't relax your mind, your body won't be able to relax and enjoy the treatment.
10. Lastly, don't forget to tip. If you received outstanding service, 15 percent to 20 percent is considered appropriate.