HAWAII Magazine's "15 Great Hawaii Hiking Trails" guide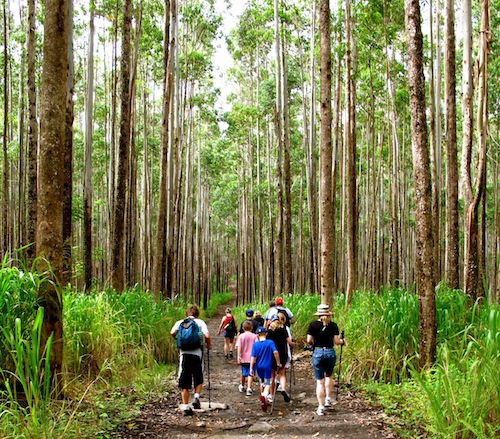 Hawaii is hikers' nirvana, with trails on every island for every level of hiking experience, over multiple varieties of terra firma (and not-so-firma), showcasing every measure of our Islands' world-renowned diversity of landscapes, climate zones and unsurpassed natural wonder.
In HAWAII Magazine's May/June issue, we share the details on our favorite statewide treks in the feature "15 Great Hawaii Hiking Trails." The trails are grouped by hiking proficiency required and include info on time you'll need to complete each hike, terrain, trailheads and a taste of what you'll see. And each is guaranteed to reward extraordinary outdoor adventure and scenery. All you have to do is be here, and bring lots of water along.
Our "15 Great Hawaii Hiking Trails" feature is part of HAWAII Magazine's first-ever OUTDOORS ISSUE, which is (surprise! surprise!) filled from cover to cover with features and regular departments related to our Islands' great outdoors. You'll find the entire "15 Great Hawaii Hiking Trails" feature in the issue, on sale now nationwide or available for individual copy purchase using our Apple Newsstand HAWAII Magazine iPad and iPhone apps. Purchase a digital subscription to HAWAII Magazine for iPad, iPhone or Android tablet and you'll get the OUTDOORS ISSUE immediately as part of your subscription.
On the pages ahead are three trails from our "15 Great Hawaii Hiking Trails" feature—one from each of our three hiking proficiency categories: "Everybody! Everybody!", "Medium Cool!" and "Experts Only!"
Have fun and be safe out there!
EVERYBODY! EVERYBODY! category:
Photo: Kicka Witte
Kuilau Ridge Trail
(Wailua, Kauai)
Distance: 4.5 miles, round-trip
Time: 2.5 hours+
Terrain: Mountain Ridge
Many of Hawaii's best hiking trails require far more mileage, difficulty and time to achieve the kind of scenic payoff the Kuilau Ridge Trail delivers on a relatively short, gentle trek even novice hikers can handle. Gradually ascending the east side of the Makaleha Mountains on the tracks of an old forest road, the trail opens up to views of perennially rain-soaked Mount Wai'ale'ale on clear days and, on all days, Mount Nounou—more famously known as "Sleeping Giant" for its ridgeline's resemblance to a human figure in repose. The trail's end is a wind-cooled ironwood grove with an awesome view of the Makaleha range's highest peak, Kapehuaala, perfect for a picnic lunch before turning back. If time permits upon your return to the trailhead, wander the native and introduced flora of Keahua Arboretum or take a dip in the cool mountain-fed waters of Keahua Stream.
Trailhead: End of Kuamoo Road at Keahua Arboretum
MEDIUM COOL! category:
Photo: David Chatsuthiphan/UnrealHawaii.com
Lanipo Trail
(Maunalani Heights, Oahu)
Distance: 7 miles, round-trip
Time: Up to 10 hours
Terrain: Mountain ridge
Surprisingly, for a small island populated by almost a million residents, Oahu boasts some of the best get-away-to-nature trails in the state. Among the best of the best are treks on the valley ridges behind metro Honolulu, which ascend all the way up to the summits of the Koolau mountain range, offering easily attainable, sweeping views of O'ahu's windward coast and windswept encounters with native plants and birds for moderately-skilled hikers. Lanipo is our favorite of these ridge trails, combining all of the above with stunning views of long-extinct Kaau volcanic crater—greenery enshrouded and only visible by air and this ridge trail—and its terraced waterfall. At the trail's end at Kainawaanui summit are vistas of the three peaks of Olomana in the distance, sister Koolau summits Awawaloa and Konahuanui along the ridgeline, and towns of Waimanalo, Kailua and Kaneohe from 2,000-feet up.
Trailhead: Off mauka side of Maunalani Circle
EXPERTS ONLY! category:

Photo: David Chatsuthiphan/UnrealHawaii.com
Haleakala Keoneheehee (Sliding Sands) and Halemauu Trails
(Haleakala National Park, Maui)
Distance: 20 miles
Time: Overnight, at least two days
Terrain: Sub-alpine open landscape, lava, sand, rock
This backpackers' hike—combining two of the lengthiest trails in Haleakala National Park—traverses much of the otherworldly interiors of the 10,023-foot volcano's vast erosional summit crater (actually a large depression), descending 4,000 feet on the Keoneheehee Trail to the massive maw of the Kaupo Gap, high above the cloud line. From there, it climbs 3,000 feet on the Halemauu Trail over lava fields and cool, rock-strewn sub-alpine cliff faces to its end at Haleakala's 8,000-foot level. Its expert rating is mostly due to length—you'll need at least two days to complete it, staying overnight in one of two reservation-required cabins on the crater's mist-shrouded outer limits—and the stamina needed for its elevation changes. Still, the trail combo is worth the effort, offering encounters with some of the most unique terrain, scenery and flora in Hawaii along the way.
Trailhead: Haleakala National Park summit visitor center