HAWAI'I Magazine's 2020 Photo Contest Winners
The stunning photos taken in the Islands that won first and second place in our annual contest.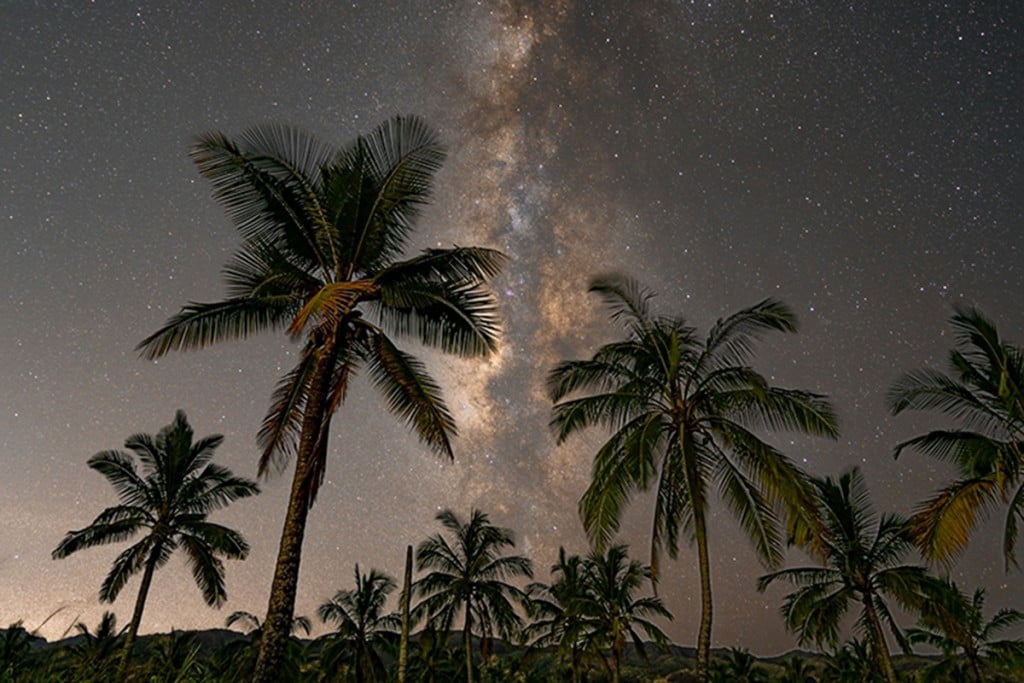 It was a tough task for our in-house team of editors, designers and staffers to pick winners of the 2020 HAWAI'I Magazine Photo Contest. But we did it! Featured here are the first- and second-place winners in the categories of land, ocean, people, wildlife and food, as well as a grand prize winner who wowed our judges. Congratulations to all of the winners and mahalo to everyone who shared their images of our beautiful Islands with us.
Grand Prize 
Justin Cunningham from Honolulu, O'ahu
North Shore, O'ahu
"[On] June 10 I saw an extremely clear sky around 2 a.m. I had tried it [at this location] before but had gotten rained on in the process. I spent about 15 to 20 minutes gathering 15 shots for the sky and a four-minute exposure for the foreground. That was the easy part. Then came blending these images together … I truly have no idea how I was able to cut out the palms so crisp but was very pleased with the final result!"
Land | First Place
Holly Lima from Ha'ikū, Maui
Makapipi Falls along the Road to Hāna in Maui
"The wind and weather were fantastic for drone photography. I sent my drone up, hoping to capture two waterfalls on either side of the road when, to my surprise, there were many more waterfalls up above."
Land | Second Place
Michael Polk from Danville, California
Ninini Lighthouse Līhuʻe Kauaʻi
"On a morning photography workshop with Kauaʻi Photography Adventures, I was taken to this remote spot to capture Ninini Light at sunrise. Ninini Light sits at the approach to Līhuʻe airport."
Ocean | First Place
Bob Kinnison from Rockford, Illinois
Hawai'i Island
"The changing light afforded me an opportunity to take a colorful, overhead shot with impressive waves crashing into the mossy shoreline. The sun provided just the right lighting and if you look closely, you can see the yellow tangs in the water!"
Ocean | Second Place
Andy Stenz from Honolulu, Oʻahu
Windward Oʻahu
"This large wave was photographed from a helicopter flight I took along the windward side of Oʻahu. We had gone a few thousand feet up for another shot and as we descended, I saw this beast."
Wildlife | First Place
Kit Furderer from Kapa'a, Kaua'i
Lehua Crater, Ni'ihau
"During the 20 minutes of time I spent documenting the rare sighting, I found the monk seal extremely interested in my camera and large underwater housing. She even winked her eye at the camera and made some unique noises."
Wildlife | Second Place
Andy Stenz from Honolulu, Oʻahu
Nuʻuanu, Oʻahu
"This little gecko was hanging out in our backyard and didn't mind modeling a bit for the camera."
People | First Place
Andy Stenz from Honolulu, O'ahu
WaikĪkĪ, O'ahu
"Flying above the crowds in a helicopter is a great way to beat traffic. It's also a fun way to photograph the crowds on Waikīkī [Beach]. And you don't have to pay for parking!"
People | Second Place
Susan J. Chipperton from Honolulu, O'ahu
Waimea Bay
"[Taken at] the 2018 Eddie Aikau Big Wave Challenge opening ceremony."
Food | First Place
Tia Cordeiro-Patino from Wai'anae, O'ahu
Mākaha, O'ahu
"The poke bowl, a classic favorite to many locals who live in the Hawaiian Islands, is a dish that you can find in almost any supermarket and poke store … Any bowl can be personalized and created to fit your desired palate. This dish was made to satisfy all my salty needs with added pickled ogo (seaweed) and lomi lomi salmon."
Food | Second Place
Keya Kai Guimaraes from Silver Spring, Maryland
Kapa'a, Kaua'i
"My uncle's pineapple patch was blooming with pink pineapples… juicy, sweet, and oh-so-ʻono!"
Prizes
GRAND PRIZE:
Roundtrip air travel for two to Honolulu on Alaska Airlines
​For over 85 years, Alaska Airlines has been guided by integrity, caring, ingenuity, professionalism and a unique spirit. Together with its partner regional airlines, Alaska Airlines serves 100 cities through an expansive network in Alaska, the Lower 48, Hawai'i, Canada, Mexico and Costa Rica.
A three-night Hawaiʻi Island stay at the Hilton Waikoloa Hotel in Kona and a two-night stay at the Grand Naniloa Hotel in Hilo.
Experience Hilton Waikoloa Village, a unique resort in Waikoloa set in 62 oceanfront acres of the exclusive Kohala Coast on Hawai'i Island. Just 20 minutes north of the Ellison Onizuka Kona International Airport, this resort features tropical gardens with waterways, exotic wildlife and a museum walkway with Asian and Polynesian artwork. Enjoy recreational amenities including two championship golf courses, eight tennis courts, three swimming pools, dolphin encounters and lagoon watersports.
Boasting a stunning oceanside location with magnificent views of Hilo Bay and Mauna Kea, Grand Naniloa Hotel Hilo, a DoubleTree by Hilton occupies a historic site amidst a lush, tropical landscape. Our setting also offers guests access to Hilo International Airport, just two miles away. Tee off on our 9-hole golf course or soak up the sunshine in our beautiful outdoor swimming pool. Energize in the complimentary fitness center or rent some water sports equipment and take to the waves.
FIRST-PLACE PRIZES (ONE WINNER IN EACH CATEGORY):
First-place winners in each category will receive one (1) $100 VISA gift card.