HAWAII Magazine's landlubber's guide to whale watching in the Islands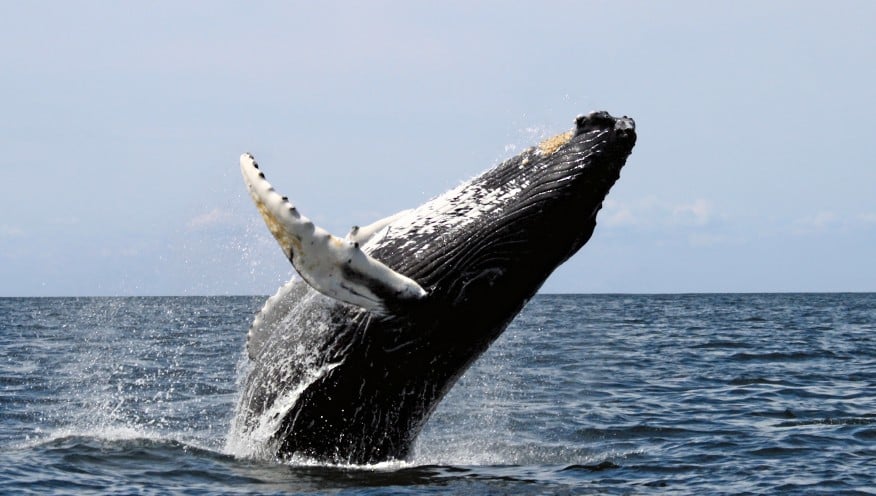 The months between November and May are whale-watching season in Hawaii.
Nearly 10,000 humpback whales make the long journey from the waters off southeastern Alaska to mate, give birth and nurse their calves in warm Hawaiian waters, where they are protected. They linger until late April or early May.
They best way to see them up close is typically a whale-watching tour. But in recent years, there's been such an increase in the number of whales populating the channels between the Hawaiian Islands that it's hardly uncommon to spot them from the shore.
Here are some scenic outlooks on each island that will increase your chances of seeing the majestic mammals breaching and spouting in the blue Pacific:

Kauai:
Kilauea Lighthouse
Kauai's historic North Shore lighthouse has been a beacon for mariners since 1913. It is now part of the Kilauea Point National Wildlife Refuge. Between November and May there is a good chance you will see humpback whales spouting, breeching and slapping a half-mile offshore from the lighthouse. The elevated peninsula also offers a spectacular view of Mokuaeae Island, a favorite place for lounging monk seals.
(Turn off Kuhio Highway onto Kilauea Road; proceed to end of the Kilauea Road.)

Oahu:
Makapuu Point
Located on the easternmost point of Oahu, the Makapuu Lighthouse Trail winds up along a 600-foot sea cliff. This 2-mile trail offers an amazing view of the Windward Side of Oahu and the island of Moloka'i in the distance. The channel below is a popular route for humpback whales migrating back to their feeding grounds in Alaska. Using the telescopes provided by the state park, watch for sudden poufs of misty spray, as the whales catch a breath after a long dive.
(Lookout is just off Kalanianaole Highway after Waimanalo—approaching from the north—and Sandy Beach—approaching from the south.)

Big Island:
Lapakahi State Historical Beach Park
Perched on lava-rock terrain overlooking Koaie Cove, on the Big Island's northwestern shore, the Lapakahi State Historical Park is a restored 14th-century Hawaiian fishing village. On the northwest side of the park is an elevated bluff where you can catch amazing sunsets and humpback whales basking in the warm water of the protected marine reserve.
(Turn off Akoni Pule Highway between Kawaihae and Hawi.)

Molokai:
Hale O Lono Harbor
Located on the southwest end of Molokai, down a dirt road heading south from Maunaloa Town, you will find the Haleo Lono harbor. The beach is rugged, and you're likely to find only a few fishermen on the shoreline. The relatively shallow water in the area is a favorite place for whales to frolic.
(From Maunaloa town, head south beyond paved road onto dirt road. Head left at fork in road and drive to end of the road.)

Maui:
Puu Olai
Of all the islands, Maui is known for having the highest concentration of humpback whales, especially off its south and west shores. Puu Olai, located south of Wailea, overlooks Makena Beach. A 15-minute climb up this 360-foot volcanic cinder cone will take you to the perfect elevation to see pods of whales traveling past Molokini and up Alalakeiki Channel. The whales often come close to shore to breed and give birth.
(Turn off Makena Road into Makena State Park's "Big Beach." The trail to the summit begins at "Big Beach.")