Hawaii marks King Kamehameha holiday with lei-drapings, parades. Here's where to go.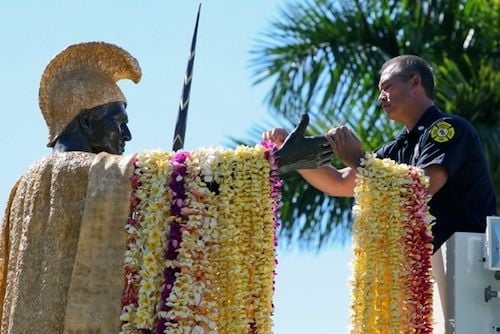 Hawaii's celebration of the King Kamehameha Day holiday will get under way today — and wrap up next weekend — with ceremonies, parades and other cultural celebrations paying tribute to King Kamehameha the Great, who established the Kingdom of Hawaii in 1810 and was its first monarch.

The first King Kamehameha Day, proclaimed by King Kamehameha V to honor his grandfather, King Kamehameha I, was held on June 11, 1872. It's now a state holiday — one of the first holidays proclaimed when Hawaii became a state in 1959. (The official state holiday will be observed on Tues., June 11.)
King Kamehameha Day festivities start today (June 7) on Oahu. The Big Island's celebration starts on Monday (June 10). And on Maui and Kauai, events are slated for next Saturday, June 15.
The largest celebration will be staged in Honolulu. Festivities will begin at 3:30 p.m. today when the King Kamehameha I statue, on King Street and across from Iolani Palace in downtown Honolulu's historic Capitol District, undergoes its annual lei-draping. Volunteers will string fresh 25-foot flower and maile lei for the statue. Lei will be draped by way of cherry picker (pictured, above) over the king's outstretched arms.
The 97th annual King Kamehameha Celebration Floral Parade — complete with its flower-studded floats, high school marching bands, pau riders, hula dancers, musicians and marching units — will wind through the Waikiki area, starting at 9 a.m. on Saturday (June 9). The parade route will begin at the corner of King and Richards streets in downtown Honolulu and end at Kapiolani Park. Hoolaulea (celebration) events will follow in the downtown area. For additional information, click here.
Here's a list of King Kamehameha Day events in the works elsewhere in the Islands.
BIG ISLAND

• Monday (June 10), 5 p.m. — Lei draping of King Kamehameha statue in Hilo Bayfront Park by royal societies and the Kamehameha Schools Alumni Association. Tuesday (June 11) 9 a.m. to 5 p.m., hoolaulea presented by the Royal Order of Kamehameha I, Mamalahoa at Mokuola (Coconut Island). Click here for more information.
• Tuesday (June 11) — Kohala King Kamehameha Day lei-draping ceremony; followed by floral parade and hoolaulea. Lei-draping starts at 9 a.m.
• June 15 — Kailua-Kona parade along Alii Drive to hoolaulea at end of parade route (King Kamehameha Hotel parking lot). Parade starts at 9 a.m.
MAUI
• June 15 — Na Kamehameha Commemorative Pau Parade and Hoolaulea. The annual Lahaina town tradition begins at 9 a.m. with opening ceremonies and a daylong hoolaulea at Banyan Tree Park with entertainment, food booths and craft and artist booths.

KAUAI
• June 15 — King Kamehameha Floral Parade in Lihue. The parade will start at Vidinha Stadium at 9 a.m. and end at the County Building on Rice Street. Hoolaulea to follow.
For additional information about King Kamehameha holiday observations and celebrations, click here.