Hawaii music legend Aunty Genoa Keawe dies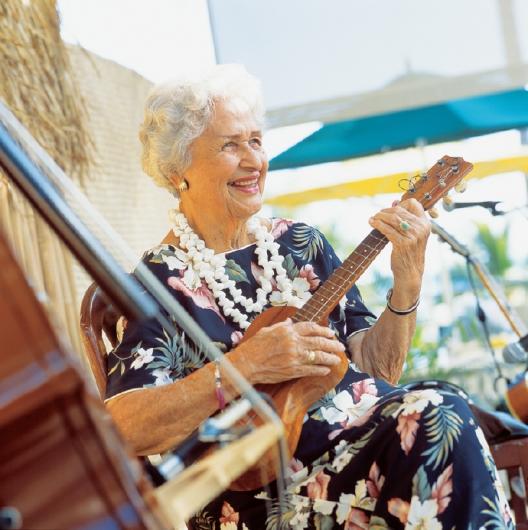 Much beloved Hawaiian music legend Aunty Genoa Keawe has died at age 89.
Aunty Genoa passed away this morning in her sleep at her home on Oahu. A renowned Hawaiian falsetto vocalist, she was a "living treasure" of Hawaiian music. Her more than 70 years of performances and recorded works were influential for many Island musicians.
A statement from her son and manager Eric Keawe can be found at Aunty Genoa's Web site here. The site is also a wonderful resource and tribute to the life and music of Aunty Genoa.
Born Genoa Leilani Adolpho on Oct. 31, 1918, Keawe began her professional career in 1939, singing at bandstand shows and for military personnel. Since her first recordings for 49th State Hawaii Records in 1946, she had recorded over 20 albums and more than 150 singles.
In 2004, Keawe's 1963 album Party Hulas was ranked No. 11 on Honolulu Magazine's list of the 50 greatest Hawaii albums of all time. She won a Na Hoku Hanohano Award—the Hawaii music industry's most prestigious peer-voted award—for female vocalist of the year for her Hula Hou album in 2005. In 2001, Aunty Genoa became only the second musician ever inducted into the Hawaiian Music Hall of Fame while still alive.
Always fond of an audience, Aunty Genoa had until recently performed every Thursday at the Waikiki Beach Marriott Resort & Spa. The show was famous for attracting surprise guests—both young and veteran admirers of her work.
In an interview with Honolulu Magazine in 2004 at age 85, Aunty Genoa recounted why she had no plans to retire from the stage anytime soon.
"Everybody says, 'Gee Aunty Genoa, looks like Hawaiian music is leaving us. People are not singing it too much.' I say, well, as long as I'm alive, there will always be."
Teach them to hula in heaven, Aunty Genoa.