Hawaii officials huhu at The Rock's SNL skit. Are you?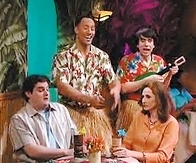 Hawaii tourism officials and the state's Lt. Governor, Duke Aiona, are publicly protesting today—about how offensive they found a Saturday Night Live skit that featured Dwayne "The Rock" Johnson and cast member Fred Armisen as hula-dancing waiters, insulting visitors in a hotel bar.
The skit continues the long tradition of Mainlanders making up nonsense about Hawaii. For instance, stringing random syllables as a "Hawaiian" song. Or throwing in a few fake hula moves and then proclaiming hula is "dancing like a monkey."
Dwayne Johnson should have known better. He spent time here as a teenager—and has promised to portray Kamehameha the Great in a planned movie about the Hawaiian king in a "culturally sensitive" manner.
On the other hand, isn't this skit what SNL always does? Broad, exaggerated comedy that sometimes isn't as funny as it aspires to be?
When a skit starts out by showing stock footage of Waikiki Beach and then claiming it's Kauai, does anybody think it's real? Does anyone really think that every service worker in Hawaii makes minimum wage and lives in pickup truck outside a shanty town? Or that all our visitors are as clueless as the ones in the skit?
Maybe. But they're wrong.
Or maybe at HawaiiMagazine.com, we've just got enough aloha not to get offended easily?
You decide. Here's the skit (an ad runs first). Tell us what you think.