Hawaii restaurant serving up "sustainable seafood" initiative in support of conservation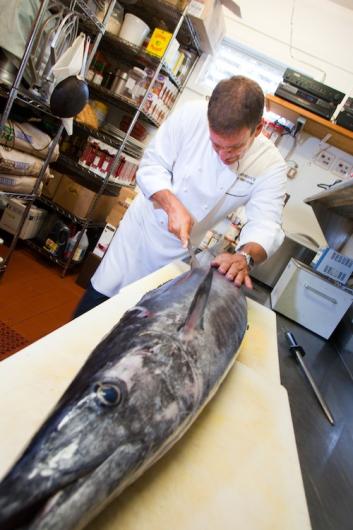 Starting on Wed., Aug 1, Merriman's Restaurants on Maui, Kauai and the Big Island will undertake a two-month sustainable seafood initiative, which aims to raise awareness about the importance of sustainable fishing practices in Hawaii.
The companywide initiative is the first of its kind to pledge support for the Hawaii Fish Trust Project and other sustainable seafood efforts in the Islands.
Through a collaboration between Merriman's and Handcrafted Restaurants, a Sustainable Seafood Special will be offered daily at Merriman's Waimea (Big Island), Merriman's Kapalua (Maui), Merriman's Fish House (Poipu, Kauai) and Chef Peter Merriman's newest restaurant, Monkeypod Kitchen by Merriman (Wailea, Maui).
The special will consist of a 3-ounce piece of wild Hawaii-caught fish paired with 3 ounces of locally raised seafood or fish.
In a media release issued by Merriman's Restaurants, chef Peter Merriman said: "Reducing the portion of wild fish on your plate increases the health of Hawaii's wild fish stocks." He added, "We love Hawaii's fish, and we want everyone to be able to enjoy these fish for years to come."
Expect to see menu options in which locally raised seafood, such as sweet Kauai prawns and Big Island Kampachi, is paired with wild Hawaii-caught favorites, such as Mahi-Mahi, Opakapaka, Lehi, Monchong, Uku, Ono and Opah.
"Continuing to use wild caught fish, just less of it, allows us to support local fisherman and conserve at the same time", added Merriman (pictured, above and left).
The Hawaii Fish Trust project is working to restore near-shore seafood security in Hawaii and supports sustainable fishing practices. The trust is part of Conservation International, a nonprofit environmental organization that focuses on freshwater and food security, climate change, biodiversity and health issues. For more information about the Hawaii Fish Trust, click here.
In addition to its sustainable seafood initiative, Merriman's Restaurants supports sustainable fishing practices by purchasing only "Day Boat fish", caught locally through short line trolling methods and offering two portion sizes on their regular menus as a means to reduce waste.
"We can all play a role in preserving the health of our oceans, even in the small everyday choices we make, like what fish we eat and how much we eat of it," Merriman said.
For more information about Merriman's Restaurants, click here.