Hawaii retailer Hilo Hattie sold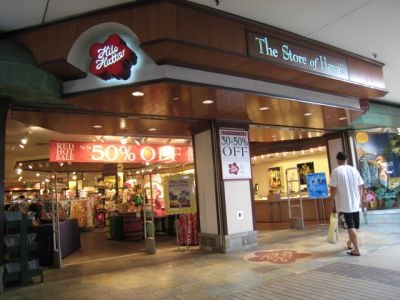 Longtime Honolulu-based Hawaiian fashion, gift and souvenir retailer Hilo Hattie was sold today to a California company.
Hilo Hattie's seven stores on Oahu, Kauai, Maui and the Big Island—as well as its online retail store—will continue business as usual.
The 45-year-old company—and self-prolaimed "Store of Hawaii"—was purchased for an undisclosed sum by TOC Inc., which also owns the Hawaii franchise of Fantastic Sams hair salons.
"I have the utmost confidence in TOC Inc's ability to successfully grow the company," said Jim Romig, Hilo Hattie's longtime chairman, in a statement. Romig founded the company as Kaluna Hawaii Sportswear on Kauai in 1963, moving to Oahu two years later to manufacture Hawaiian fashions.
The company changed its name to Hilo Hattie in 1979—in honor of Hawaii musician Clarissa Haili, who took her name from the 1932 hapa-haole song, "When Hilo Hattie Does the Hilo Hop." The company has grown into one of the largest and most world-recognized retail brands of Hawaiian-themed apparel.
TOC Inc. principal Ted Nelson said in the statement that he would continue building and expanding the Hilo Hattie brand. Hilo Hattie has two stores in Southern California, and will open a new 20,000 square-foot flagship store at Waikiki's Royal Hawaiian Center in 2009.