Hawaii Shave Ice: Our Guide to Favorite Toppings
You asked. We answered.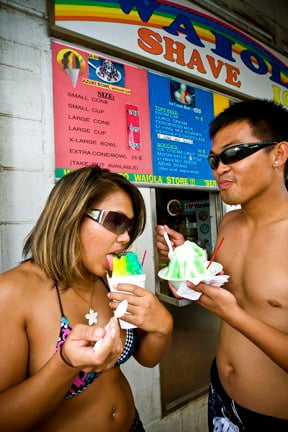 Brian Tate of London, Ontario, Canada, wrote us with a question about our HAWAII Magazine Facebook ohana's favorite Hawaii snack:
I'm planning my second trip to Hawaii, for this coming summer. It's freezing where I am right now, but I can't get my mind off the wonderful shave ice treats I inhaled almost every day the last time I visited. I always tried different syrup flavors and combinations, but the most adventurous I got with Hawaii's shave ice "extras" was a scoop of ice cream. I'd like to try some of the other toppings next time I'm there. Can you give me some info about all of them?
You ask. We answer.
Hawaii residents take their shave ice seriously. Well, as seriously as one can take a paper cone or bowl of powdery ice flakes packed into a dome then drenched with one or a multitude of flavored syrups.
Choosing from among several dozen flavored syrups—pineapple, lilikoi, coconut, mango, li hing, banana, guava, strawberry, etc.—at some shave ice stands is a tough enough challenge for the uninitiated. Add a menu of unfamiliar extra toppings—azuki beans, mochi balls, sweetened condensed milk and more—and questions like, "How does THAT taste on shave ice?" arise.
To answer your question, Brian, we decided to limit our list to the basic favorite toppings found at almost all Hawaii shave ice stands. That meant none of the sweet custards, green mung beans, tapioca pearls, jellies, puddings and taro pieces that fill the extras menu at Hawaii's rising number of Asian-style shave ice shops.
Here goes …
Vanilla ice cream
A scoop of vanilla ice cream buried in the center of the cone as ice is added, brings a whole other dimension of flavor and texture to the shave ice experience. As you dig into the shave ice cone from the top, melting ice and flavored syrup combine with softening ice cream within the cone to created a sweet, semi-thick concoction best slurped lustily with a straw. The key to perfection here: allowing the ice cream to slowly melt into the shave ice. Why only vanilla and not other ice cream flavors? Vanilla ice cream will always play nicely with any flavored syrup choice.
Azuki beans
Actually a sweet paste made from the East Asian-grown red azuki bean—first boiled then mashed into a paste and sweetened. Hawaii shave ice stands use a version of the paste that keeps a good portion of the softened beans intact rather than completely mashed. Homemade recipes are used at the best Hawaii shave ice stands. As with ice cream, the paste is scooped into the center of the shave ice cone as ice is being added for an extra kick of sweetness midway through the treat. In a shave ice bowl, azuki bean paste is more often ladled over the top of a finished ice dome after the syrup has been poured. Most folks who don't like azuki beans, grouse about the added sweetness and odd texture they bring to the shave ice experience. For many others, however, azuki beans are a must-have shave ice topping.
Sweetened condensed milk
One of our personal favorite shave ice toppings is a finishing layer of sweetened condensed milk over the ice dome after flavored syrups are poured. The thick blanket of decadently rich sweetness the condensed milk creates upon settling is often called a "snow cap" because of its resemblance to a fresh dusting of powder on especially mountainous servings of shave ice. Once you've had it on shave ice, resistance is futile the next time you order.
Mochi balls
Mochi balls—small, rounded pieces of the sweet Japanese rice cake—are a fairly recent favorite on the Hawaii shave ice toppings menu. For shave ice bowls, white mochi balls are softened in sweetened syrup and the whole concoction ladled over the top of the finished mound of ice. For shave ice cones, the concoction is scooped into the center or bottom of the cone as it is being shaped. Shave ice aficionados on Team Mochi Ball rave about the added sweetness and soft, round texture.
Li hing powder
A dusting of this red powder used in Chinese style preserved fruit and candies on a finished shave ice cone imparts a sweet, sour and salty flavor some might consider an acquired taste. Our advice? Tread lightly here unless you've had anything with li hing powder before and liked it.
Did we miss any extras toppings you love on your shave ice? Leave us a comment here or on our Facebook and Twitter pages. Pique our interest with one of your extras, and we'll add them to our list above (and credit you, of course).