Hawaii students have IDEAS for a STEM Workforce
These kids have what it takes for 21st century careers.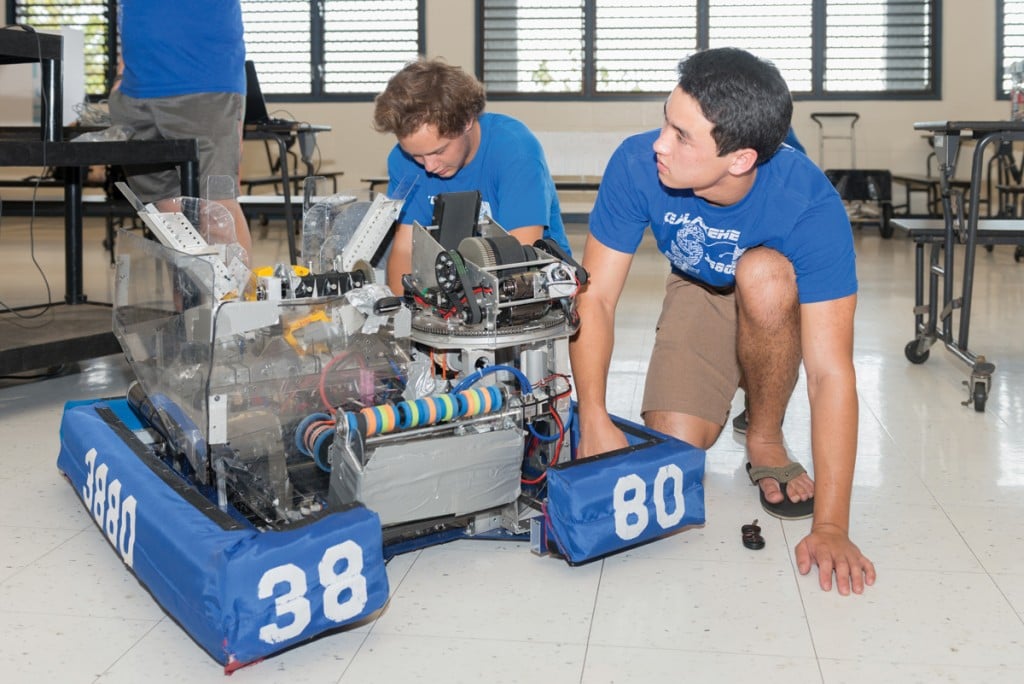 Picture this: Members of a creative robotics team address a real-life problem in their neighborhood — drunken driving. They invent an electronic device to measure blood-alcohol content (BAC) via the steering wheel, using ceramic gas sensors to register the ethanol content emitted from the skin of the driver's hands.
The device communicates this information to the driver's phone using Bluetooth technology and, if the driver's BAC is higher than 0.04 percent, the phone sends a text message to a friend or relative, notifying them that the driver is impaired.
That's not all. The device uses GPS coordinates, so the friend or relative can find the driver with the over-the-limit BAC. Along with informing the friend or relative that the driver is inebriated, the text message offers the option of ordering a taxi or ride-hailing service for the driver.
Like what you see? It's neither science fiction nor corporate product. The Impaired Driver Electrochemical Alert System (IDEAS) was created by students of Kealakehe High School on Hawaii Island.
"I wake up every day expecting something amazing will happen with our students; I go to sleep marveling at what actually happens," says teacher Justin Brown. "I get to spend 10-15 hours a day with creative, curious problem solvers. It's absolutely inspiring."
A Shared Commitment to STEM Education
As technology evolves, the job market and economy change too. Learning environments are also shifting to prepare students to be employable, creative problem-solvers. Increasing numbers of schools are flipping classrooms, using project-based lessons and emphasizing STEM (science, technology, engineering and math) education like never before. And donors across the country are stepping up where funding is lacking.
In Hawaii, STEM education takes place in and outside of the classroom, inspiring many philanthropists to direct their gifts to individual nonprofit programs like the Girl Scouts of Hawaii's STEM Fests or the National Tropical Botanical Garden's STEM internship for young women.
Career Connected Learning (CCL), a grants program created in 2014 with seed funding from the Thirty Meter Telescope, has inspired 11 other funders to contribute and support STEM education for students on Hawaii Island and Kauai. CCL grants totaling $1.5 million were awarded this year to 43 schools and nonprofits across the two islands, actively engaging students in Hawaii's $2.5 billion astronomy sector and sparking their curiosity about alternative energy, aquaculture and food security.
A CCL grant also supported Kealakehe students' STEM work, inspiring their InvenTeam and readying them for Hawaii's 21st-century economy.
Brown believes that the Kealakehe InvenTeam could be an example to communities across the country, leveraging public education as the organizing agency for social justice, workforce development and community innovation. "We want our students to be designers of communities worth creating," he says. "We want them to have the skills to understand the new technological paradigms, the design skills to see improvement opportunities, the leadership skills to impact institutions/structures and the ethical foundations to bring opportunity and prosperity for the entire community."
Donors step up. Teachers inspire creativity. Students let loose to see where their imaginations take them. That's the power of partnerships.