Hawaii style: Santa arrives by canoe at Waikiki Beach wearing a palaka
He traded in his reindeer for a crew of paddlers.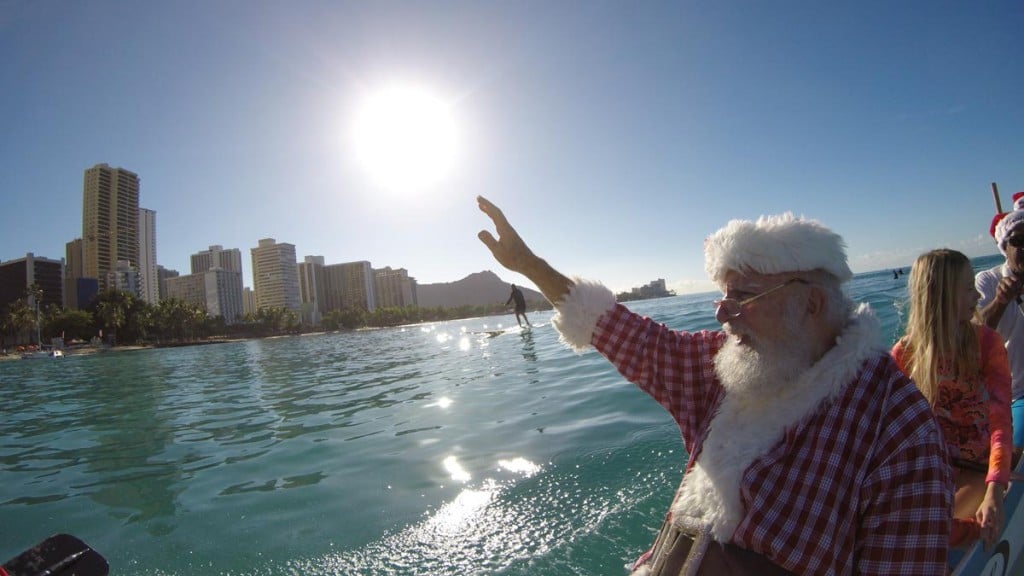 Snow on the Big Island, zero parking at Ala Moana Center, and Santa just cruised into Waikiki in a canoe—it's beginning to look a lot like Christmas in Hawaii.
On December 9, jolly old St. Nick arrived on the shores of the Outrigger Waikiki Beach Resort, wearing his red and white palaka (checkered shirt) and throwing out shakas. On the beach, a crowd of keiki greeted him with cheers and a hula performance, which he thoroughly enjoyed.
"Hawaii is my second ho-ho-ho-home," Santa said. "I'm getting to o-ho-ho-hold for the co-ho-ho-hold in the North Po-ho-ho-hole. When I was younger, it was no trouble. But now I feel it in my bo-ho-ho-hones."
As is the tradition, Santa is in the Islands on a short vacation before he ramps up for his 2017 delivery schedule. But anyone who knows Santa knows he's kind of a workaholic, and finds ways to busy himself even when he's off. That's why he'll be hosting a breakfast on December 16 at the new Reef Bar and Market Grill, formerly the Shore Bird Restaurant.
"It's a great way to get into the holiday spirit," Santa said. "There's going to be a big buffet, balloon twisting, body art, and you can get your pho-ho-ho-hoto with me."
Keiki who want to have breakfast with Santa can have their parents go to outrigger.com for more information. Seating is limited.