Hawaii Superferry postpones Big Island service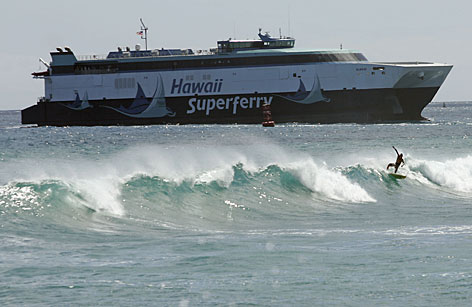 Folks looking to holoholo by Superferry to and from the Big Island will have to wait a bit longer. At least 365 days longer, to be exact.
Hawaii Superferry is postponing the introduction of its second vessel for one year. The new ferry had been set to begin service from Honolulu to Kawaihae Harbor on the Big Island of Hawaii's South Kohala coast in May 2009.
Hawaii Superferry will continue operating its current Oahu to Maui service on its first 350-foot-long catamaran-style vessel, the Alakai. No changes to the current schedule are planned.
The company cited large start-up costs and a shaky economic climate as main factors for the postponement. Hawaii Superferry President and CEO Tom Fargo said that deferring a second Superferry will save the company around $10 million.
Fargo said Hawaii Superferry would continue to grow its current Honolulu to Kahului service while anticipating an economic climate better suited to starting the new Oahu to Big Island route.
The still-unamed second ferry is expected to leave its Mobile, Alabama-based shipyard as scheduled, arriving in the Islands in late February 2009. Short-term opportunities for use of the ship will be considered while the Hawaii Superferry waits to begin the new route.
Hawaii Superferry began inter-island travel in December with service from Oahu to Maui. Originally slated for an additional Oahu to Kauai route, protests on Kauai have halted plans for service to the island.
For more information on the Hawaii Superferry, click here, or call (877) 443-3779.