Hawaii Superferry returns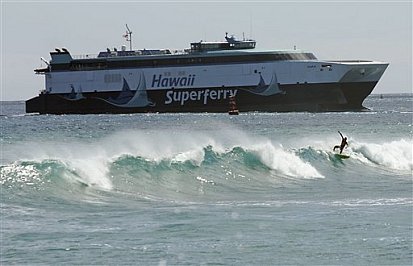 The Hawaii Superferry's back.
The ferry resumed interisland service today between Oahu and Maui—departing at 6:30 a.m. from Honolulu to Kahului, and returning at 11:15 a.m. from Kahului to Honolulu. A one-way trip between islands takes about four hours.
Passenger fares one-way are $39, and $55 for passenger vehicles. Reservations may be made at the Superferry Web site or by calling (877) 443-3779.
The Alakai had been in drydock for repairs since Feb. 13, with a return to service originally set for later this month.
The ferry's advance return comes a week after Aloha Airlines shut down abruptly, creating a reduction in interisland airline seats. However, company officials said the vessel's return two weeks ahead of schedule was due to a slightly more predictable occurrence: Mellower spring seas between the Islands.
Rough winter seas forced the 866-seat/282-car ferry to suspend service unexpectedly for several days in January, weeks after opening for business. Already low passenger bookings dropped further.
The ferry was originally slated for an additional route between Oahu and Kauai, but protests on Kauai continue to keep the Alakai from docking there.
A second Superferry vessel, still under construction, is scheduled to begin service between Oahu and the Big Island in early 2009—one assumes after rough winter seas abate.