Hawaii surfer's ride into Kilauea volcano flow gets world attention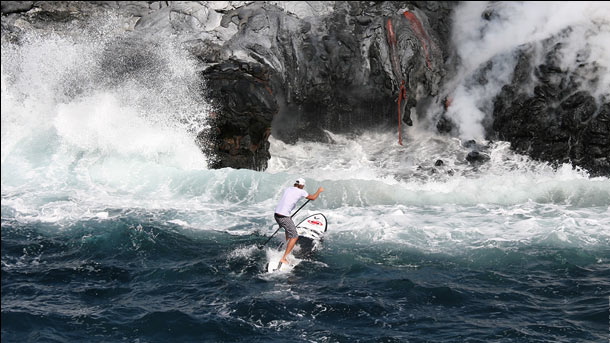 The photos are real—Hawaii surfer C.J. Kanuha paddling to within 20 feet of Kilauea volcano lava entering the ocean off the Big Island's Puna coastline.
The water is boiling hot—almost 400 degrees F. It burned Kanuha's feet, peeled his skin, and melted the wax on his surfboard.
The shots—by photographer Kirk Lee Aeder, from a helicopter circling above Kanuha—were taken in April. But the photos have become an Internet sensation in recent days, since their publication in Outside Magazine's current issue.
Kanuha's seriously dangerous adventure has drawn attention and interview time from American broadcast networks, the BBC, and newspapers worldwide.
In a Honolulu Star-Bulletin story Thursday, Kanuha, 24, portrayed his ride as one of deep cultural respect towards Hawaiian fire goddess Madame Pele, done with much planning beforehand. Can't begrudge him there. But given the fact that the extremely fragile bench of newly-hardened shoreline lava could've collapsed into the water, or a large unexpected wave swept Kanuha off his board or closer to shore, we can't help thinking it's a little crazy.
"That's really not smart," Hawaii County Civil Defense Director Quince Mento, told the Star-Bulletin. "I'm not going to get in the way of one's religious practices, but nature is nature."
Aeder told the British newspaper Telegraph, "One day I was talking to … CJ and we began discussing the idea of him … paddle surfing close to where the lava enters the ocean and that I would shoot it from a helicopter. We both knew it would make for an amazing shot if we could pull it off."
Kanuha was pulled into position by a friend on a jet ski. Another friend paddled nearby in a kayak. He's promised not do it again too soon—out of "respect" for Madame Pele.
Good plan.
For more HawaiiMagazine.com Kilauea volcano news, click here.