Hawaii ukulele virtuoso Bill "Duke of Uke" Tapia dies at age 103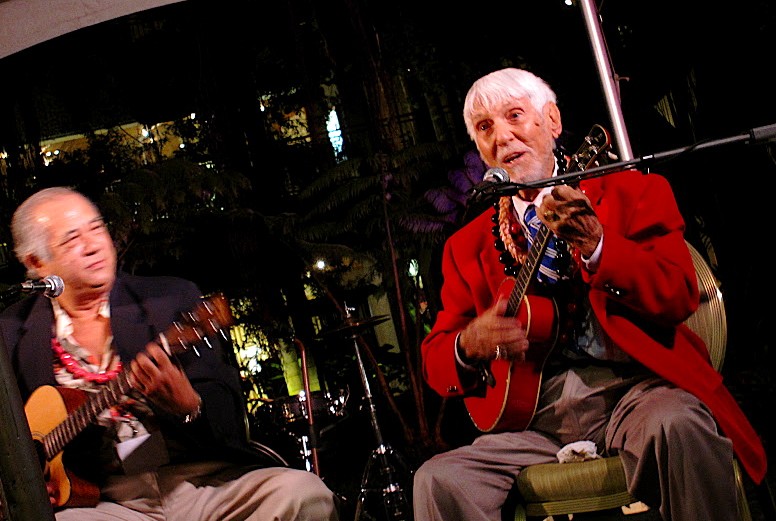 Hawaii ukulele legend Bill Tapia, whose music career spanned more than nine decades, died today at his home in Westminister, Calif. He was 103.
Tapia enjoyed success in the Islands' music scene as both a youngster and after marking his 90th birthday, when he was known as the "Duke of Uke."
Born New Year's Day 1908 in Honolulu, Tapia reportedly received his first ukulele at the age of 7 from Manuel Nunes, one of the first and most respected ukulele makers in the Islands. Tapia's career started to take shape at age 10 when he entertained World War I troops at USO shows with his own version of "Stars and Stripes Forever," according to Tapia's website.
During the early years of his career, Tapia also took up banjo and guitar, and performed on steamships sailing from Hawaii to the West Coast. He performed as a backup musician with Bing Crosby, Billie Holiday, Fats Waller and Louis Armstrong as well as with Hawaiian musicians ranging from King Bennie Nawahi to Andy Iona.
In 1927, Tapia played with Johnny Noble's band at the opening of the iconic Royal Hawaiian Hotel in Waikiki in 1927. A few years ago, he returned to perform at the hotel's reopening. At that 2009 event, the 101-year-old ukulele virtuoso (pictured, above) sang "My Little Grass Shack in Kealakekua, Hawaii" for guests in the Coconut Grove.
According to Tapia's website, he spent World War II in Honolulu, leading a 14-piece band in "blackout ballrooms," with all the lights out to avoid possible detection by Japanese bombers. After war, Tapia moved to California's Bay Area and spent many years performing and teaching, focusing on guitar.
Less than a decade ago, Tapia returned to his ukulele roots and in 2004 released his first-ever CD, Tropical Swing, featuring jazz and Hawaiian standards. He followed up with Duke of Uke (2005) and Livin' It Live (2009), showcasing his live show.
Tapia continued to tour until late last year. In 2004, he was inducted into the Ukulele Hall of Fame, and earlier this year he received a Lifetime Achievement Award from the Hawaii Academy of Recording Arts. Funeral arrangements are pending.