Hawaii ukulele virtuoso to lead try for new world record with massive ensemble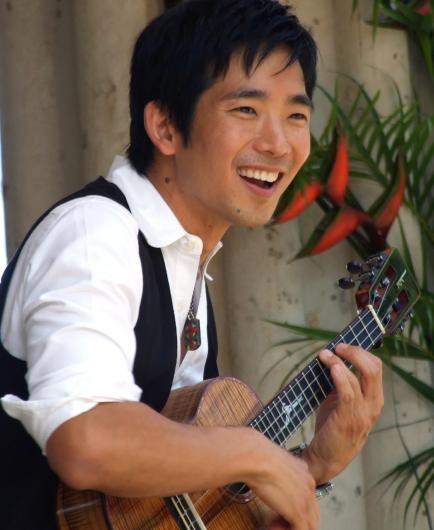 Sweden? C'mon, start strumming. Hawaii is tuning up for a try at topping the recent Guinness World Record set on Aug. 20, 2011 when exactly 1,547 ukulele players performed in unison in Helsingborg, Sweden.
In the interest of Island pride, passion for music, a fundraising effort and, yes, just plain fun, ukulele players from Hawaii and elsewhere are getting ready to strum in an ensemble dubbed GO FOR DA RECORD.
Led by Hawaii's ukulele virtuoso Jake Shimabukuro (pictured,right), the ensemble will assemble at 10 a.m. on Sat., Oct. 22 at the Waikiki Shell Amphitheater on Oahu. GO FOR DA RECORD is hoping that more than 2,000 ukulele players will make their way to the amphitheater to play one song — a new Shimabukuro composition — in unison.
The record-breaking attempt is slated for noon. (A 30-minute performance warm-up will precede the big moment.)
Wanna give the tune a try? Check out the instructional video at the bottom of the page. Beginners should be able to master it fairly quickly, according to event organizers.
Participants are advised to practice the piece before the record-breaking attempt because simply sitting in a mass assembly with an ukulele in your hands will not cut it. Guinness World Record guidelines specify that the performance must be of a "professional standard;" each participant must play their instrument during the entire attempt (no sharing allowed); also, no improvisation is permitted.
More than half of all net proceeds from the event will go to Rainbow for Japan Kids, a relief program for struggling earthquake and tsunami survivors. Proceeds will also be used in the purchase of hundreds of ukuleles and other musical tools for teachers and needed music programs in Hawaii's schools.
Registration for the event is $10. All participants will get a certificate of participation and commemorative cap for use on the day of the performance. For more registration details, click here.
Don't have an ukulele to bring to the event? GO FOR DA RECORD will make instruments available through a "Pay It, Play It, Donate It?" opportunity, through which participants may purchase and ukulele to use as a member of the ensemble with the option of giving it to Hawaii schoolchildren after the performance.
The event is coordinated by Music For Life Foundation, a nonprofit that organizes music-focused programs and special events in Hawaii. For more information about GO FOR DA RECORD, click here.