Hawaii Volcanoes park reopens crater rim area near Kilauea's summit to hikers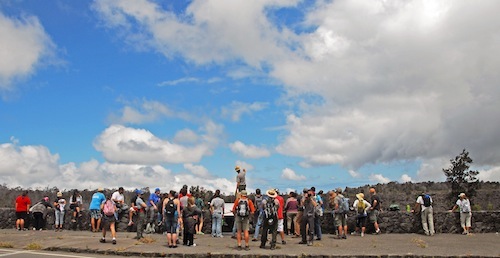 Hawaii Volcanoes National Park has reopened the section of Crater Rim Drive near the Devastation Trail parking lot to Keanakakoi crater. Also reopened to hikers: a portion of Crater Rim Trail that leads from Chain of Craters Road to the south side of Keanakakoi. The crater is situated on the boundary faults which encircle Kilauea Volcano's summit.
Nearly one mile of Crater Rim Drive (0.8 miles, to be exact) is now open to hikers, and visitors can enjoy an easygoing roundtrip walk through koa and ohia forest on pavement all the way to the Keanakakoi crater overlook. Across the road, another overlook provides panoramic views of Halemaumau crater and Mauna Loa.
The park has also reopened about 0.7 miles of Crater Rim Trail from Chain of Craters Road, just north of Lua Manu crater. This section of trail winds through native forest, edging the flows of 1974, and leads to the south side of Keanakakoi crater. A news release issued by the National Park Service last week notes that both routes offer an abundance of diverse and breathtaking views.
The park closed Crater Rim Drive from Jaggar Museum (next to Hawaiian Volcano Observatory) to Chain of Craters Road and portions of Crater Rim Trail for public safety after Halemaumau began to erupt in March 2008 and volcanic fumes caused poor air quality. Halemaumau continues to erupt, and Crater Rim Drive remains closed from Keanakakoi to Jaggar Museum.
In the news release, Park Ranger and Chief of Interpretation Jim Gale said: "Thanks to a new sulfur dioxide monitoring network, and an increase in air quality monitoring tools at our fingertips, we can effectively evaluate air quality conditions." Gale added, "We encourage park visitors to take advantage of the newly opened section of road and trail."
According to the Park Service, Keanakakoi crater likely formed during the 1400s, during Kilauea's great summit collapses. Until 1877, Hawaiian kahuna kakoi (carving experts) sought the crater's superior and rare basaltic rock for making ko i, or adze heads. Bound to a sturdy au ko i (wooden handle), this valuable tool was used to carve vital objects like canoes and structures for houses. The adze quarry was covered by lava in 1877, and again during the fissure eruption in July 1974. Today, the crater floor is 115 feet deep.
The Keanakakoi area may still experience high levels of volcanic fumes with changing wind conditions. Should this happen, the park will temporarily close the site to visitation. Interpretive signage in the area features a QR code for smart phones, which connects to the Hawaii SO2 Network website.
For daily updates on Kilauea volcano activity, issued by Hawaiian Volcano Observatory website, click here.
HawaiiMagazine.com has reported regularly on lava activity at Kilauea volcano and Hawaii Volcanoes National Park on the Big Island. Click here to catch up with all of our Volcano News posts. You can also follow our updates on our Twitter and Facebook pages.