Hawaii voyaging canoe crew to detail instrument-free sailing at Oahu fundraiser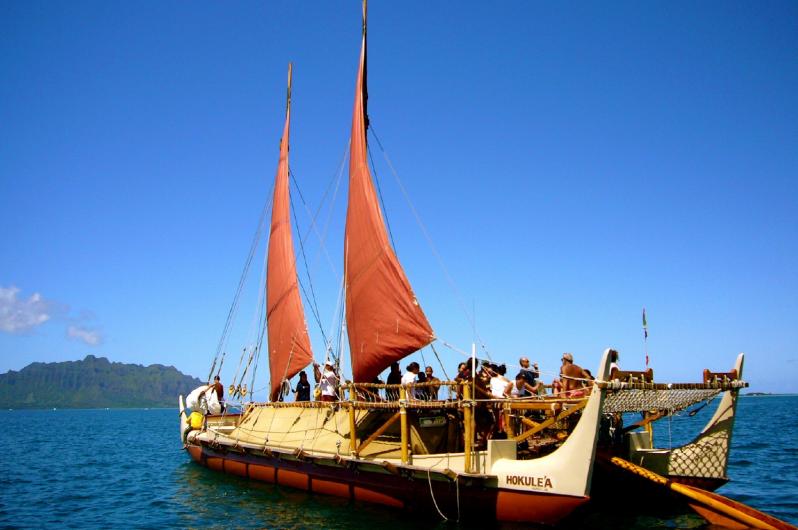 How did Polynesians, traveling by way of voyaging canoe, settle Hawaii and other far-flung islands of the mid-Pacific? By navigational luck or by careful calculation?
These questions prompted to founding of the Polynesian Voyaging Society during the early 1970s. The group built the Hokulea — a replica of a double-hulled Hawaiian voyaging canoe. Its inaugural voyage, from Hawaii to Tahiti, was completed without modern navigational instruments.
On Sat., Sept. 10, the society is hosting Malama Hokulea, a fundraiser, 5 p.m. to 9 p.m., on the great lawn at Oahu's Kapiolani Community College (near Diamond Head Crater) during which attendees will have opportunity to learn about voyaging directly from crewmembers.
There will also be a screening of the film Papa Mau: The Wayfinder, which recounts the fundamental role that a master navigator played in "reawakening Polynesian pride by teaching Hawaiians the dying art of traditional voyaging without the aid of instruments," according to Paliku Documentary Films.

Tickets for the event are $25. (Children age 6 and younger will be admitted for free with a paying adult.) Proceeds will help fund the Hokulea's renovation and more worldwide voyaging.
Since that first voyage in 1976, the Hokulea has sailed in Hawaii's waters as well as those in the far corners of Polynesia. It has also made trips to Alaska, from Vancouver to San Diego, and through Micronesia to Japan. The Hawaii-based Polynesian Voyaging Society describes the vessel's adventures this way, "It has explored the ocean of our ancestors in order to rediscover and perpetuate through practice Hawaiian voyaging traditions and values and to bring together communities throughout the Pacific."
Here are some of the event's highlights.
• Talk Story Sessions with the Navigators & Crew of Hokulea, 5 p.m. to 6 p.m.
• Hawaiian Music/Slack Key Moonlight Concert on the Lawn, chant and hula pahu (hula with a drumbeat) for Hokulea, Kawika Napoleon and Lehua Gaison-Tyler (6 p.m.); Danny Carvalho (6:10 p.m.); Kawika Kahiapo and Mike Kaawa, (7 p.m.); Weldon Kekauoha, (7:50 p.m.); and Ernie Cruz, Jr., (8:40 p.m.).
• Papa Mau: The Wayfinder — screening, documentary film by Na alehu Anthony (auditorium seats first 120 people), 5 p.m. to 6 p.m..
• Visions of Voyaging: Photography by Na alehu Anthony, Monte Costa, and Sam Low, display and sale, 5 p.m. to 9 p.m.
Food and beverages will be available for purchase. No coolers. No alcoholic beverages. Ticket holders may bring in reusable (preferably non-disposable) water bottles; and picnic food in small containers (preferably reusable or biodegradable) or baskets; and plates & eating implements (again, preferably reusable or biodegradable).
For additional information about the event and the Polynesian Voyaging Society, click here. To subscribe to Hawaii Magazine, click here.