Hawaii woodworkers to unveil their best Island-grown works at 19th annual Hawaii Woodshow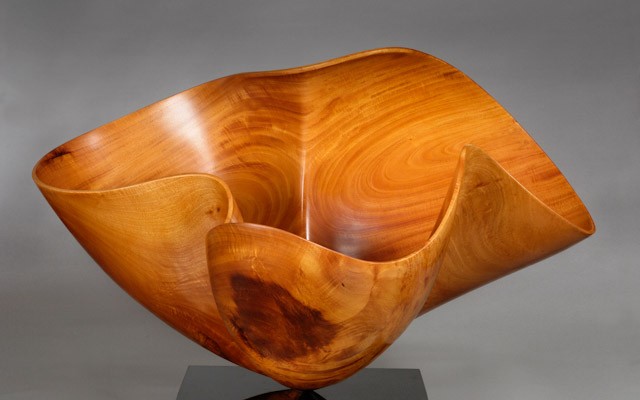 Imagine strolling through a fine art museum — except everything on display is made from Hawaii-grown woods.
That's what it's like walking through the Hawaii Forest Industry Association's annual Hawaii Woodshow: Na Laau o Hawaii.
This year's 19th annual HFIA juried furniture and woodworking show begins Sat., April 9, and runs through Sun., April 17, at the Honolulu Academy of Arts' Academy Art Center at Linekona. Show hours are 11 a.m. to 6 p.m. Tuesdays through Sundays.
The show is a celebration of the art of woodworking and the role of our Island forests in Hawaii's culture, economy and ecology. It also combines the considerable talents of more than 50 Hawaii artisans with a message of sustaining our state's forests and their indigenous species.
On display will be valuable works made from native koa, mango, kamani, milo, Norfolk pine, macadamia nut, kiawe and other Hawai'i-grown woods. Woodworks displayed will include everything from furniture to musical instruments to sculpture and works crafted by woodturning.
The juried show comes with fairly strict rules for participating artisans. Only wood from Hawaiian-grown tree species—especially those that have been planted and brought to maturity here—is allowed for entered works. Imported woods are allowed only if the application is traditional, such as spruce for a guitar top or used as accent or trim. Rare Hawaiian woods such as hala, olopua and kopiko are not admissible.
If you like what you see at the show, many of the works on display will be available for purchase after the woodworking show concludes on April 17.
Entry to the show is free, though a $5 donation is suggested to support the Hawaii Forest Industry Association in its efforts to promote healthy and productive forests.