Hawaiian Airlines employees educate passengers on not taking lava rocks from Hawaii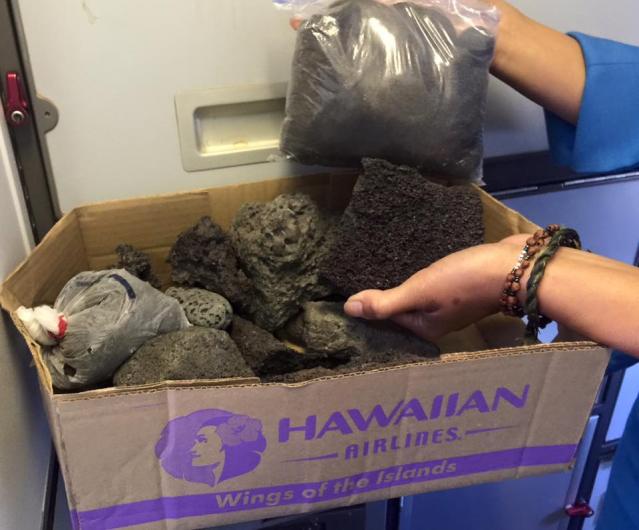 Talk about going beyond the call of duty.
Two Hawaiian Airlines passengers showed aloha to a family of passengers that unknowingly took a box's worth of lava rocks and black sand from Hawaii Island with them in their carry on.
Malia Mahi recounted that when the family was deplaning on Maui she noticed a piece of lava rock sticking out of a child's backpack and politely asked where it was from.
"'Oh on the big island. We're keeping it for souvenier,'" Mahi wrote in a Facebook post [all sic] about their conversation. "I explained to him & his family why they couldnt take it with them. A few minutes later, the entire family surrendered ALL the lava rocks & black sand they had in their carry-on bags."
The post was accompanied by this photo of what the cooperative family gave back to Mahi:
Luckily, Mahi says the plane was on its way back to Hilo where they could be returned back to the aina (land).
In a separate video, another flight attendant helped in this endeavor, and explains why culturally Hawaiians and Hawaii's residents advise against taking rocks from the Islands.
Confiscated box of rocks and sand being returned to Pele. If you visit here please respect the Aina and the traditions. Mahalo Bradda Pacs from Hawaiian Airlines and Mermaid Malia from TEAM Mermaid Kariel, for sharing your Mana'o with these tourists and sharing this with us so we can spread the message. #ponolife #aloha
It's worth highlighting, as Mahi does in her original post, that it's prohibited and against the law to remove minerals from within a U.S. national park such as Hawaii Volcanoes National Park as their mission is preservation.
Neither says its their goal wasn't to criticize, embarrass or chastise anyone who mistakenly takes lava rock and sand from Hawaii volcanoes and beaches. "It's our kuleana," the Hawaiian word for responsibility, Mahi writes in her post, "to educate those who are simply unaware."