Hawaiian Airlines gambles on direct Las Vegas-Maui flights, starting Oct. 3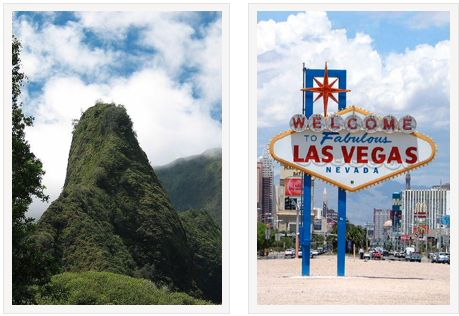 Hawaiian Airlines will add twice-weekly nonstop flights between Las Vegas, Nevada, and Kahului, Maui, to its mainland U.S. flight schedule, beginning Oct. 3.
Flight times for the new route will be:
• Las Vegas, Nev. – Kahului, Maui
Departure: 6:25 p.m. (West Coast time), Sundays, Wednesdays
Arrival: 9:25 p.m. (Hawaii time), same day
• Kahului, Maui – Las Vegas, Nev.
Departure: 8 a.m. (Hawaii time), Mondays, Thursdays
Arrival: 4:35 p.m. (West Coast time), same day
The Honolulu-based carrier did not immediately announce any introductory airfare deals for the new route. We'll keep you posted if deals are announced.
Reservations for Hawaiian Airlines' Las Vegas-Maui route can be booked now at HawaiianAirlines.com, or by calling the (800) 367-5320.
Hawaiian Airlines executive VP and CFO Peter Ingram said that the carrier's addition of three brand new Airbus A330-200 aircraft to its fleet this year allowed for the expansion of its current Las Vegas-Hawaii flight schedule. Hawaiian Airlines plans to add 24 additional Airbus A330-200 planes to its Hawaii-U.S. mainland fleet by 2020.
The carrier will be flying its 264-seat Boeing 767-300 aircraft, not the new 294-seat Airbus aircraft, on the new Maui-Las Vegas route.