Hawaiian hawk on verge of losing federal protection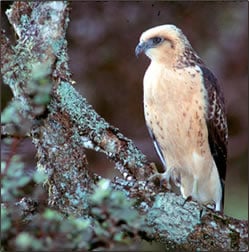 41 years. That's how long the Hawaiian hawk, or i'o, has been classified as an endangered species. If a recent proposal goes through, all that could change.
The U.S. Fish & Wildlife Service called for the hawk's removal from the Federal List of Endangered and Threatened Wildlife, saying the species' numbers were substantial enough to warrant such a move. The act would rescind all federal protections for the bird under the Endangered Species Act.
The total population of the Hawaiian hawk is estimated to be about 3,000. There were only a few hundred when the hawk was first added to the list in 1967.
Regardless, the hawk will remain protected under the Migratory Bird Treaty Act, a federal law that prohibits taking or harming the birds, their nests or eggs.
The small, broad-winged species is the only member of the hawk family that nests and resides in Hawaii, primarily on the Big Island. Culturally, the Hawaiian hawk has great significance to Hawaii. It was long believed to be an 'aumakua, a deified ancestor that took animal form. The hawk has also been considered a symbol of Hawaiian royalty because of its lofty flight.
Have an opinion on the hawk being removed from the endangered list? The government is seeking public input on the proposal. Click here to speak your mind, or for more information on the act to remove the Hawaiian hawk click here, or call (808) 792-9400.