Hawaiian International Billfish Tournament ends with Japan winner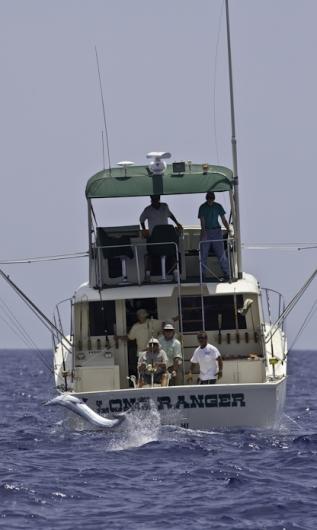 It's the 50th anniversary of the Hawaiian International Billfish Tournament, which draws fishermen from across the planet to Kona on the Big Island Hawaii.
HAWAII Magazine was there this week on the water. We spent 11 hours Thursday, and another 8 hours today, on the 38-foot Night Runner. There was lots of action, and lots of 3-to-5-hour long fights to land fish, as we zipped from one of the 41 contestant boats to the next, trying to catch all the action.
The busiest day for most contestants was Thursday, which dawned voggy and overcast on the Kona side, but when we got 3 to 5 miles out started to clear to blue skies. Most of the fish were caught in the afternoon, just as the tide shifted.
By evening, the surf churned up, and conditions got rough. Boats were supposed to land in Kailua-Kona town, where the weigh-in usually happens. But Night Runner and other boats that did not have a catch to weigh in were diverted to the dock at the Sheraton Keauhou Hotel, further south.
Anglers have to catch and release all fish less than 400 pounds; only the biggest swordfish and marlin make it back to the weigh-in.
The largest fish of the tournament so far (and it looks unlikely that there will be any surprises on this last day) was a 566.5 pound marlin landed by 74-year-old Sam Spinello of the Malibu Marlin Club. Big, yes. But that was still under the 973-pound Pacific blue marlin that was the biggest last year, the second largest in tournament history.
Big as it was, Malibu Marlin Club's catch also wasn't enough to win it the Hawaiian International Billfish Tournament crown. That honor went to Kona Game Fishing Club-Bellhope from Japan, which lead the final point count for largest week-long total catch. North Carolina's Old South Marlin Club #4 took second place. California's Malibu Marlin Club took third place.
You can see video we shot of Sam Spinello's weigh-in with the monster marlin below.
Look for a feature on this granddaddy of all big-game fishing tournaments in an upcoming issue of HAWAII Magazine.