Hawaiian, Mokulele, go! launch competing Hawaii interisland airfare deals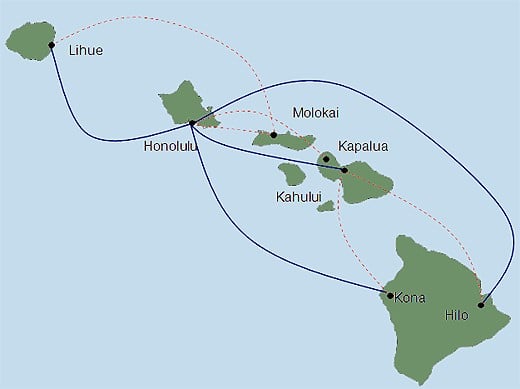 Cue up Sinatra crooning "Come Fly With Me" and check out these Hawaii airfare deals!
Even as summer travel season comes to an end, yet another skirmish in the Hawaii interisland airfare war is sure to keep the heat up in September.
This week, Hawaii-based air carriers Hawaiian Airlines, Mokulele Airlines and go! each announced deals on September travel aimed at luring island hoppers aboard their flights instead of the competition's.
The choices are intriguing enough. Book a la carte flights with Hawaiian Airlines or go! for $24.99 each one-way. Or opt for a winged buffet from Mokulele Airlines—all the interisland flights you can handle during the month of September for $299 total.
Here are the deal breakdowns by air carrier, in order of who flew in with its deal first:
Mokulele Airlines
On Monday morning, Mokulele began offering a $299 interisland flight pass, good for unlimited travel during the entire month of September.
There are a few rules to note. Flights must be booked three days prior to departure. If you skip out on flight, all remaining flights booked with the pass are suspended and a $100 penalty is charged to the customer's account. No new flights can be made until the customer pays the fine.
Don't let the rules scare you. You'd be hard pressed to find a better deal for the local businessman or the frequent Hawaii traveler regularly zipping between the Islands. Just don't wait too long to decide if it's for you: The pass must be purchased by Aug. 31.
For more information or to purchase the pass click here, or call (866) 260-7070.
Hawaiian Airlines
Hawaiian on Monday afternoon began guaranteeing $24.99 one-way interisland fares throughout September to members of its HawaiianMiles travel reward program. Not a member? Click here to sign up for the free service.
To qualify for the fare, you'll need to be a HawaiianMiles member or register for membership by Aug. 31. Once you've got membership, tickets can be booked from now through Sept. 30 for travel through the month of September.
One added benefit of the deal: members who take Hawaiian up on the $24.99 fare earn a minimum 500 HawaiianMiles—applicable toward travel to any destinations Hawaiian serves, including Mainland U.S. flights.
Click here for more information.
go! Airlines
go! fired its salvo into the battle Tuesday morning, matching Hawaiian Airlines' $24.99 one-way fare deal for its September flights. Both deals are near identical—however go! isn't requiring customers to sign up for a membership program.
Like Hawaiian's $24.99 deal, go! tickets can be purchased now through September 30 for travel through the month of September.
For more information, click here or call (888) IFLYGO2 (435-9462).
Special rates for all carrier deals are subject to seat availability. Various taxes and fees not included.