Hawaiian snow returns! First powder of the season falls on the Big Island.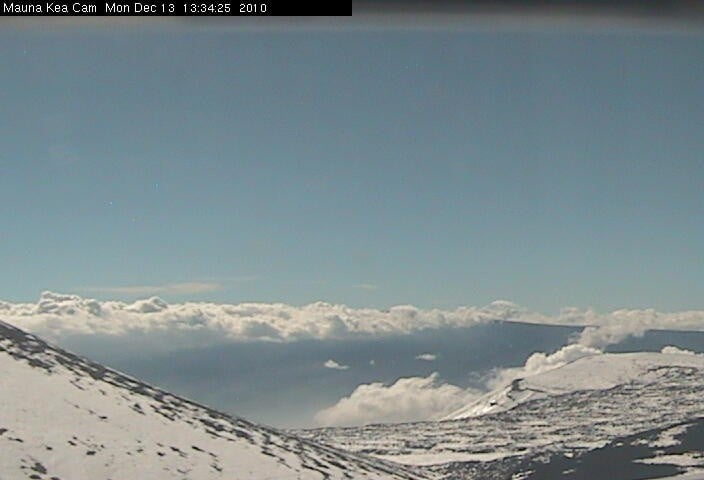 Is there anyone who still believes you can't have a white Christmas in Hawaii?
Last week, a storm front that brought heavy rains across the island chain dropped the first snow of the season on the summits of Mauna Kea and Mauna Loa on the Big Island. So much so, in fact, a winter storm warning was in effect until last Saturday for both summits. The Mauna Kea summit access road was closed briefly, too, as more than six inches of snow was expected to fall.
When the road was opened on Saturday morning, droves of residents and visitors headed to the summit — about 13,000 feet above sea level — building snowmen, throwing snowballs and scooping snow into backs of pickup trucks, according to reports.
Both summits — Hawaii's tallest peaks — are still capped with snow today. Hawaii-island website Big Island Video News was on Mauna Kea's summit this weekend to catch residents and visitors romping in the fresh powder. Check out the site's video here.
Mauna Kea is a dormant volcano, the largest and southernmost of the Hawaiian Islands. It's the highest point in the Pacific Basin and the highest island-mountain in the world, rising 32,000 feet from the ocean floor to an altitude of 13,796 feet above sea level. Currently home to 13 international telescopes, the summit is also one of the world's premier locations for astronomical studies.
Snow usually falls on both Mauna Kea's and Mauna Loa's summits every year between October and March, typically after heavy rain storms.
For more information on visiting the summit of Mauna Kea, check out this HAWAII Magazine post on how to get there. To find out current weather conditions on the summit, click here.