Hawaiian voyaging canoe Hokulea finally departs Oahu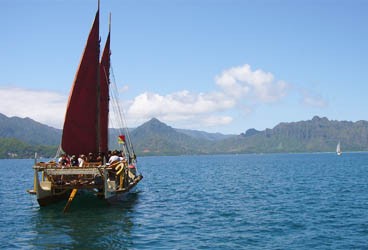 After 10 days of patient waiting, the sea-starved crew of the Hokulea finally left Hawaii yesterday evening just before sunset. The voyaging canoe's course is now set for the remote Palmyra Atoll, some 1,000 miles south of Hawaii in the Line Islands.
As previously reported here, Hokulea was originally scheduled to leave Friday, Feb. 27 from its dock at Oahu's Sand Island. Cloudy weather, unpredictable winter winds and choppy ocean conditions kept pushing the date back. A window of clement weather finally opened up yesterday afternoon, prompting the crew to meet and make the decision to depart.
Clear skies and favorable weather were essential for the trip as the crew of Hokulea uses celestial bodies and currents to navigate the open ocean, similar to the techniques of ancient Polynesian voyagers.
The month-long excursion to Palmyra and back is the first of at least 12 long-distance training missions to prepare crews for an upcoming global circumnavigation, set for May 2012. While at Palmyra—one of the most pristine marine wilderness areas on Earth—the young crew will explore the ocean and coral reefs surrounding the atoll.
Can't get enough Hokulea news? Follow the goings on of the canoe's crew through social networking and micro-blogging service Twitter (click here). Crewmembers have been tweeting (updating) regularly on all things Hokulea as they awaited the go-ahead for the Palmyra journey. Their tweets should get even more interesting now that the canoe is on the open ocean.
In February, HAWAII Magazine and HawaiiMagazine.com jumped into the Twitter universe, as well. Click here to begin following our official Twitter page for quick links to our Web features as soon as they're posted, magazine news and to follow the musings of other like-minded folk who love the Islands as much as we do.
Our hopes for safe travels and calm seas go out to the crew of the Hokulea!