Hawaii's erupting Kilauea volcano to be featured on commemorative 2012 coin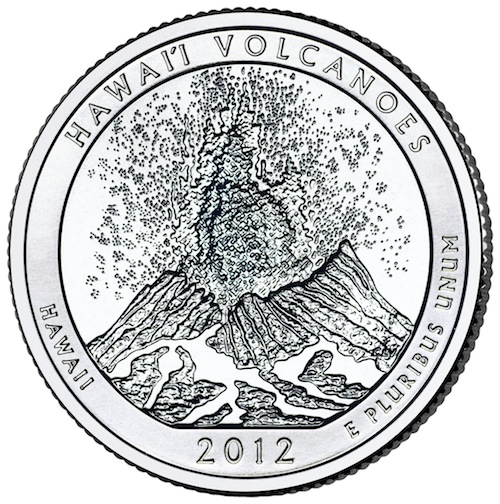 An eruption on Kilauea volcano's east rift zone will be featured on a commemorative quarter that's slated to be released this year through the America the Beautiful Quarters Program.
The coin will include the inscriptions: HAWAII VOLCANOES, HAWAII 2012 and E PLURIBUS UNUM.
In a news release issued by the Big Island's Hawaii Volcanoes National Park, Superintendent Cindy Orlando said: "We are extremely honored that Hawaii Volcanoes National Park was selected by the United States Mint to represent our state on the America the Beautiful quarter, and that they solicited our design input." The Hawaii Volcanoes coin was designed and sculpted by United States Mint Sculptor-Engraver Charles L. Vickers.
Set for release on Aug. 27, the coin (pictured, right) is expected to be the fourth quarter unveiled in 2012 and the 14th in a series of 56 circulating America the Beautiful quarters. Among the other coins scheduled for 2012 release dates are: El Yunque National Forest in Puerto Rico, Chaco Culture National Historical Park in New Mexico, Acadia National Park in Maine, and Denali National Park and Preserve in Alaska.
On each coin, the tails-side design represents either a national park or other national site in one of the 50 states, District of Columbia or five U.S. territories. The heads-side on each features the 1932 portrait of George Washington by John Flanagan, which has been restored to show off subtle details and the beauty of the original model. Inscriptions on the obverse: UNITED STATES OF AMERICA, LIBERTY, IN GOD WE TRUST and QUARTER DOLLAR.
Puu Oo, a cinder cone on Kilauea volcano's eastern flanks (pictured, left), began erupting in January 1983. The ongoing 29-year Puu Oo eruption, among the longest-lasting Hawaiian eruptions in recorded history. The first written accounts of eruptions in Hawaii date back to the 1820s, when American missionaries arrived on the Big Island.
Daily updates on Kilauea volcano activity are available at the Hawaiian Volcano Observatory website.
HawaiiMagazine.com has reported regularly on lava activity at Kilauea volcano and Hawaii Volcanoes National Park on the Big Island. Click here to catch up with all of our Volcano News posts. You can also follow our updates on our Twitter and Facebook pages.