Hawaii's most hilarious party wave happens in Waikiki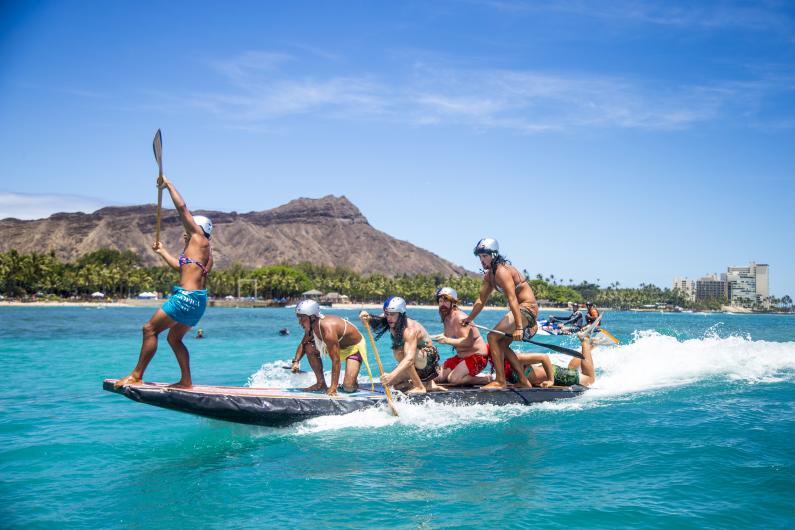 You've seen big-wave surfers collectively charge Waimea. You've seen impressive, mind-boggling lines carved out on Peahi. But this weekend in Waikiki, you'll see an entirely different display on a wave where craftsmanship, costumes and childlike imagination take center stage.
Granted it's a far gentler wave than its north shore counterparts, it still packs a punch where creativity is concerned.
Hilarity is guaranteed when groups flex not just their balance, but inventiveness for the Red Bull Party Wave on the final day of the weeklong Duke's Oceanfest festivities, currently taking place all over town. Twenty teams build unique surf crafts, fashion outfits, bust out a skit and then ride a wave in unison at the Queen's surf break fronting the Duke Kahanamoku statue.
Like these ~ GnarlMania ~ wrestlers who rocked the waves in a wrestling ring.
Or this crew of castaways just trying to get to shore.
These guys slapped on some Cool Runnings spandex.
Because they were definitely feeling da rhythm, feeling da rhyme.
It's bobsled time!
This team did some road tripping on a full tank of awesome.
These dudes dressed up in drag as they surfed illustrious Queens.
The competition takes place on a break fronting what was once the former summer home of Queen Liliuokalani, hence Queens.
There also be pirates here.
Not … sure … what this is, but it's BIG.
Everest, perhaps?
What can only be described as the Oregon Trail with a touch of BoJack Horseman also made an appearance.
Watch a recap of last year's participants in action to get a taste of what to expect this Sunday:
---
Free and open to all. Tentatively, the teams load-in at 8 a.m. and the surf heats begin at 10 a.m. An awards ceremony to wrap it all up at around 3:30 p.m. More info over at Red Bull.