Hawaii's new "Flags of Our Nation" stamp debuts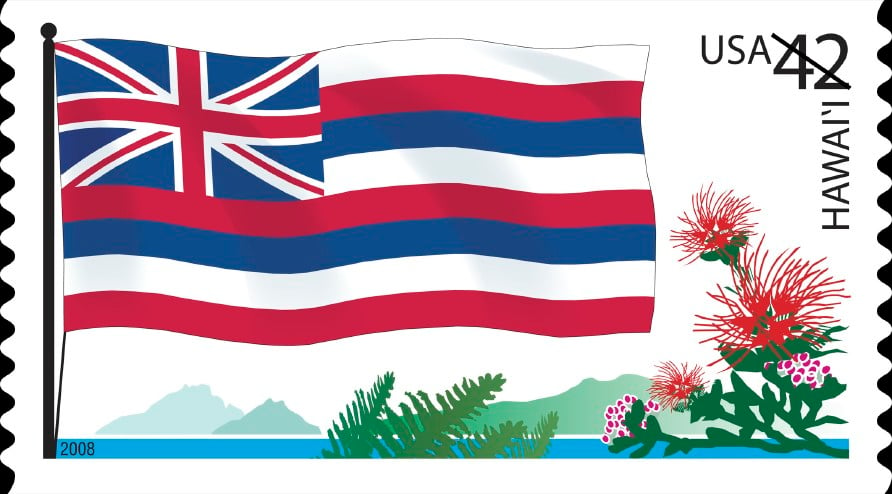 Hawaii has a new stamp from the U.S. Postal Service.
On Sept. 2, Hawaii will have its brand new "Flags of Our Nation" stamp, featuring the Hawaiian flag, mountains, ferns and an ohia tree with blooming lehua flowers.
If you're on Oahu next week Tuesday, Hawaii's stamp celebration will be held at noon in the Airport Post Office courtyard. Between 12:30 to 2 p.m., postal employees will issue first-day-of-issue postmarks. (If you're not in Hawaii, you can purchase the stamp nationwide.)
"Flags of our Nation" is a three-year, multi-stamp series, featuring the Stars and Stripes, the 50 state flags, five territorial flags and the District of Columbia flag. The first set of 10 stamps was issued on June 14, Flag Day. Hawaii's stamp is part of the second set which also includes the flags of the District of Columbia, Florida, Georgia, Guam, Idaho, Illinois, Indiana, Iowa and Kansas. The remaining sets will be issued in 2009 and 2010, for a total of 60 stamps.


For more information about other Hawaii stamps, including the Diamond Head Lighthouse stamp (pictured left), read "Hawaii in the Mail" in our July/August 2007 issue of HAWAII Magazine. Back issues can also be purchased by calling (808) 534-7520.