Hawaii's oldest food festival celebrates Kona Coffee culture
Kona Coffee Cultural Festival starts brewing on Hawaii Island November 3 – 12, 2017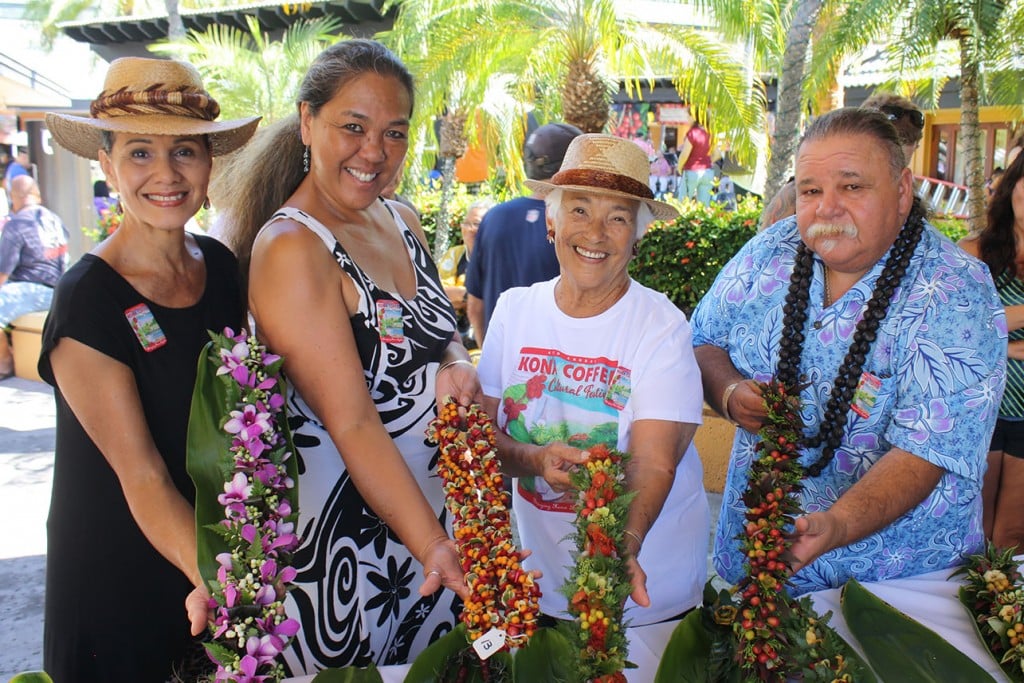 For nearly 200 years much has been celebrated, discussed and enjoyed over a cup of Kona's world famous coffee. Praised for its fine, light and memorable taste, Kona coffee once again takes center stage at the 47th Annual Kona Coffee Cultural Festival.
Throughout the 10-day Festival, festival goers celebrate the harvest as Kona coffee farms offer a firsthand look at growing this world-famous crop, the coffee art scene fills with inspiration, and music and dance enrich cultural exchanges. Kona coffee and food events offer tastings, and hands-on cultural events help tell the story of Kona's rich coffee history.
Cultural Heritage Of Kona's Coffee Industry
The Kona Coffee Cultural Festival experience is unique and enriching and ensures that the story of Kona coffee's cultural heritage continues to be shared with residents and visitors.
The cultural heritage of Kona's coffee industry is built on the multi-generational tenant farmers, mainly of Japanese descent who established coffee plantations in the Kona District along with the native Hawaiian host culture that had earlier ties to growing coffee here in Kona.
Spend 10 Perfect Days at Kona Coffee Cultural Festival
Events are held throughout the Kona district. Pick up a free 32-page Festival magazine with detailed information, and read on for more details.
Day One ­– Friday
Head to Holualoa and catch the art exhibit opening at Donkey Mill Art Center. As the sun sets, find some dinner in Historic Kailua Village and get ready to watch the Festival Lantern Parade lighting up Kailua Village with colorful lanterns, and ethnic costumes. An evening of song and dance brings the first day to a close.
Day Two ­– Saturday
Prepare for a busy day with the Holualoa Village Coffee & Art Stroll through the galleries, where 100% Kona coffee samples from more than 30 farms will get the coffee buzz going. Drive a few miles to the Ueshima Coffee Corporation's Hawaii Kona Coffee Estate for an in-depth tour and the opportunity to hand pick Kona's ripe coffee cherry. Then, prepare to attend the evening's Miss Kona Coffee Scholarship Pageant.
Day Three ­– Sunday
A food lover's dream come true – tasting sweet and savory dishes made with 100% Kona coffee at the recipe contest. Stroll through a historic farm on a self-guided tour that reveals the story of Kona's coffee pioneers during the early 20th century.
Day Four ­– Monday
Go for total immersion in coffee heritage at Kona Coffee Living History Farm in Captain Cook. Attend a free barista training at Daylight Mind Bakery and Cafe and prepare yourself for the exciting Kona Coffee Barista Throwdown competition on Thursday.
Day Five­ – Tuesday
Book a morning with the Kona Coffee Council Farm & Mill Tour. After lunch, plan to see how quilters express their Kona coffee creativity.
Day Six – Wednesday
During the preliminary round of the Kona cupping competition, festival goers have opportunity to meet several farmers and learn what the judges are looking for. And who can pass up a Kona Coffee Beer, Wine and Coffee Tasting opportunity that includes delicious food pairings?
Day Seven – Thursday
Attend the Kona coffee cupping finals at Daylight Mind Coffee Co. and feel the excitement build with every judge's slurp. An international panel of professional cupping judges will sniff, slurp and taste their way through 50+ entries to crown the Kona coffee farms that best represent perfect Kona coffee. Share in a cultural exchange with Enka-style folk songs by Japanese recording artist Uwasa no Kyotaro.
Day Eight – Friday
Take in all the multi-cultural activities at Makaeo County Pavilion and purchase coffee from local Kona coffee farms. Catch Native Hawaiian arts, traditions and practices like lauhala weavers conducting workshops to perpetuate this vibrant piece of Native Hawaiian craft. Join in on educational native floral designs and lei making classes. An evening of local talent at Aloha Theater is a must-see.
Day Nine – Saturday
The Festival Finale Weekend is in full swing at the multi-cultural hoolaulea celebration of all things Kona coffee. The aroma of coffee, delicious local foods and music fills the air. Friendly artisans share their skills with the crowd and an unbelievable lei contest is a real treat. Participate in traditional Hawaiian poi making, ikebana, traditional Japanese calligraphy and visit the heritage display at this fun festival for all ages.
Don't miss the traditional makahiki blessing, with ancient hula and traditional Hawaiian music.
Day Ten – Sunday
As the Festival comes to a close, test your cosmic bowling skills with the scholarship pageant contestants, including Miss Kona Coffee and Miss Aloha Hawaii. What a week!
For a full list of the Kona Coffee Cultural Festival schedule of events, please visit Konacoffeefest.com.