Hawaii's only alpine lake disappearing fast, with no end in sight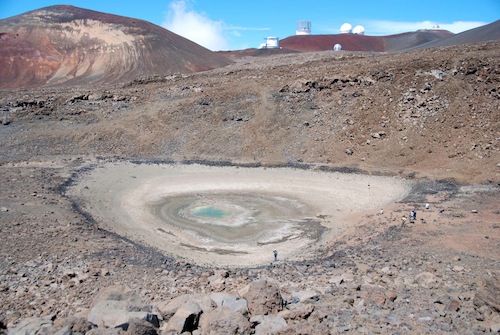 Hawaii's only alpine lake is shrinking at an alarming rate, causing scientists to wonder why it's happening and what to do about it.
Lake Waiau, a tiny lake just below the 13,803-feet-above-sea-level summit of Mauna Kea volcano on the Big Island, is almost entirely gone. The lake began to decrease in size in early 2010, reported Hawaii Volcano Observatory scientist in charge James Kauahikaua in his weekly Volcano Watch newsletter published Nov. 7. The surface area of the lake has shrunk from 1.2 to 1.7 acres, which is its norm, to its current .03 acres. That's 2 percent of its normal surface area.
Prior to 2010, the maximum depth of Lake Waiau was measured at 10 feet. It's currently less than a foot deep.
According to research by Kauahikaua, gathered from historical photos taken over the last century and written reports dating back to the early 1800s, there is no historical evidence of Lake Waiau ever being as small as it is today.
Lake Waiau, at normal size, on June 14, 2002, with United States Geological Survey employee standing in front to show scale.
What could be the cause of the lake's quick, dramatic and unprecedented change?
Scientists believe one culprit could be an extended drought period that Hawaii has experienced since 2008. The Mauna Kea Visitor Center weather station, according to Kauahikaua, recorded very little precipitation for several consecutive months in early 2010, which may have triggered a drop in water level that has since been sustained by continued low precipitation.
Writes Kauahikaua, Lake Waiau is also a "perched" water body, in which water is held in a depression by an impermeable substrate of silty clay and interbedded with ash layers. Permaforst may also be present under the lake, which could have altered the its water balance.
"Given its cultural significance and its uniqueness, the disappearance of Lake Waiau would be a great loss for Hawaii," Kauahikaua reported.
The Office of Mauna Kea Management Rangers, State Dept. of Land & Natural Resources and the Division of Forestry and Wildlife (the latter two manage the Mauna Kea Ice Age Natural Area Reserve) have been monitoring Lake Waiau closely, tracking the reduction in its size with photography.
Scientists at Hawaii Volcano Observatory, led by Kauahikaua, are asking people with historical photos of Lake Waiau to email them to the observatory at askHVO@usgs.gov.
Lake Waiau at normal size. Date of photo unknown.
Lake Waiau was included in the feature, "10 Hawaii Places You Haven't Been to Yet," in the May/June 2011 issue of HAWAII Magazine—a compendium of our favorite off-the-beaten track places throughout the Islands that even some lifelong residents had yet to experience firsthand. Early Hawaiians believed that Lake Waiau, just 700-feet below the summit of Mauna Kea, was without bottom—a gateway for travel into and out of the spiritual world. It remains a sacred place, still used for Hawaiian rituals.
Formed at the bottom of its namesake cinder cone during the retreat of the last glacier age, Lake Waiau's placid waters are fed by rain and melted snow trickling down the barren rock of the cinder cone. It is accessible only by four-wheel-drive vehicle on the Mauna Kea Summit Road, then a one-mile roundtrip hike in thin, low oxygen-level air, which makes breathing difficult.