Hawaii's "Pineapple Isle" up for sale, negotiations with potential buyer under way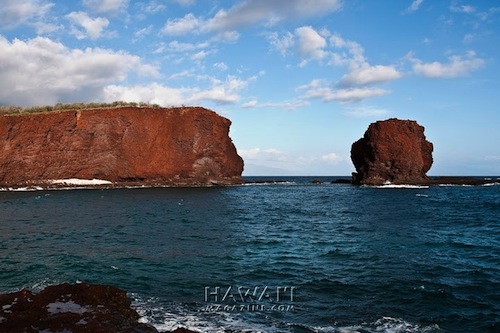 Want to buy your own Hawaiian island? Of course, you do. Opportunity to snap up Lanai surfaced late last year when its Los Angeles-based billionaire owner reportedly put the smallest of the state's publically accessible islands up for sale.
Still interested? Better move quickly. According to buzzing local news reports and news wire service dispatches, David Murdock, who took control of 98 percent the Pineapple Isle as part of his purchase of Castle & Cooke Hawaii Inc., now has a potential buyer lined up.
Who? Sources linked to the matter, such as Maui Mayor Alan Arakawa (Lanai is part of Maui County) have said they're sworn to secrecy. However, rumors zipping around the Islands by way of various media outlets note two names (both high-tech heavyweights): Microsoft founder Bill Gates and Larry Ellison, Oracle's CEO. Gates and his wife, Melinda, rented the entire island for their wedding in 1994. And Ellison has a home on the island.

Still considering a bid? You'll need a heavy purse. The Maui News has reported that the asking price is between $500 million and $600 million for the largely undeveloped patch of paradise — 140.5 squares miles with no stoplights.
A previous owner, James Dole, president of Hawaiian Pineapple Company (later renamed Dole Food Company), bought the entire island in the early 1920s and developed most of it as a pineapple plantation. When Hawaii became a state in 1959, Lanai was folded into Maui County. (The state controls 2 percent of the island.)
In 1985, Murdock (Dole's CEO) took control of most of the island as a result of his purchase of Castle & Cooke, a company that was once part of the "Big Five" agriculture-focused companies in territorial Hawaii, during the early 20th century. These days, most of its business is in real estate and residential/commercial development.
Twelve years ago, Murdock reportedly bought out Castle & Cooke shareholders for nearly $700 million and took the company private. Murdock closed the island's long-standing pineapple operations and opened two luxury resorts, both managed by the Four Seasons Hotels.
UPDATE, 6/20/2012, 2:40 p.m. HST: The Honolulu Star-Advertiser newspaper is reporting, based on state documents filed today, that Oracle Corp. co-founder and CEO Larry Ellison is buying the island of Lanai from David Murdock.