Hawaii's renowned watermen (and women) honored with hall of fame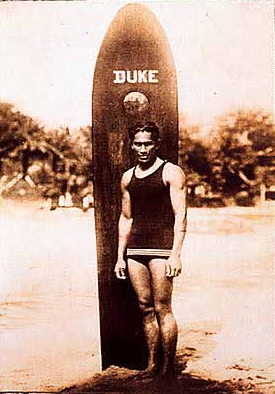 On the 120th anniversary of Duke Kahanamoku's birthday, the Outrigger Duke Kahanamoku Foundation teamed up with Primo Beer to induct the first honorees in the newly created Hawaii Waterman Hall of Fame.
The foundation's Ralph Goto said, "Hawaii has a rich history of producing some of the world's best athletes in water sports, and that tradition continues on today. We're excited about paying tribute to the deserving watermen and waterwomen of Hawaii with this inaugural class of nine honorees, all of who have been at the forefront in helping to establish the Hawaiian Islands as the center of the water-sports universe."
The nine honorees include three posthumous inductions: ocean surfing legend Eddie Aikau, woman surf pioneer Rell Sun (pictured below), and, of course, Duke Kahanamoku (above left). These are all beloved figures in the Islands.
The other six are well-known veteran Island watermen:


· Wally Froiseth – Surfing, Canoe Paddling
· Fred Hemmings – Surfing
· Buffalo Keaulana – Surfing, Lifeguard
· Rabbit Kekai – Surfing, Canoe Paddling
· Keo Nakama – Swimming
· Nappy Napolean – Canoe Paddling
If you're curious about Hawaii's great tradition of water athletes, the Hawaii Waterman Hall of Fame is currently housed in a large, glassed-in display area at the Hilton Grand Waikikian. The new resort is, fittingly enough, right off of Kahanamoku Street in Waikiki. It's free.
The Outrigger Duke Kahanamoku Foundation perpetuates Duke Kahanamoku's legacy by providing scholarships and athletic grants to individuals pursuing waterspouts and volleyball in the Islands. Primo Beer, of course, has a history in Hawaii stretching back to 1897, and donates a portion of profits to support Hawaii's environment and culture.
The newly created Hawaii Watermen Hall of Fame recently held its first induction ceremony at the Outrigger Canoe Club. Here are pictures from the event.