Hawaii's scariest haunted houses and attractions on every major island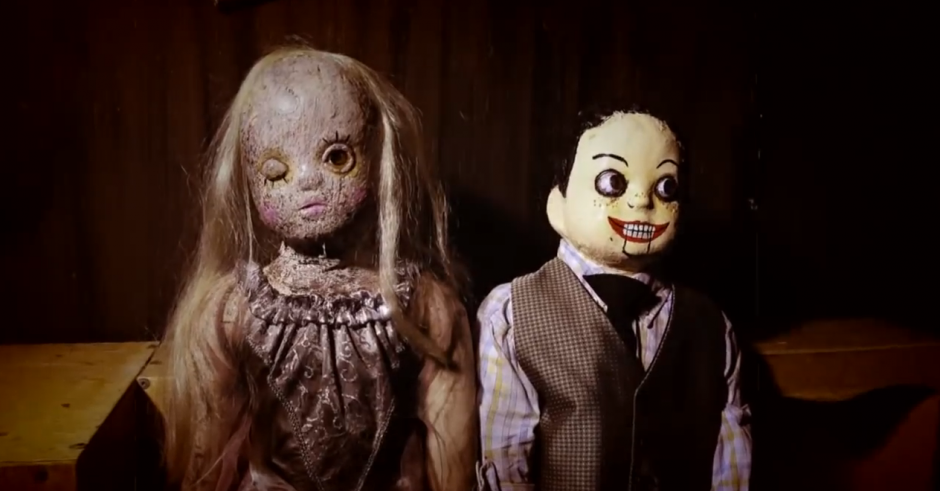 After a day of "Oohing" and "Ahhing" at the sights around Hawaii, spend your nights shrieking and shouting at these many frightening haunted houses, trains, hayrides and experiences around the Islands.
Here's your guide to the best of Hawaii's haunted attractions.
OAHU
Nightmare at Dole Plantation 3
Fridays and Saturdays, now through Oct. 31
Dole Plantation, one of your favorite daytime destinations, has turned into a frightening place at night for Halloween this month. Choose from the thrilling Nightmare Express train ride and listen to ghost stories by Lopaka Kapanui, or enter its haunted House of Nightmares and scream your head off at every turn of the corner.
Children ages 12 and under must be accompanied by an adult. Presale recommended: $11 haunted house, $8 train; Walk-ups: $13 haunted house, $10 train. 7 to 11 p.m., Dole Plantation, 64-1550 Kamehameha Hwy, Wahiawa, doleplantation.com.
Night Terrors
Friday, Oct. 30 and Saturday, Oct. 31
There's nothing better than having fun and giving back to the community at the same time. Profits from Night Terrors' haunted house of horrors will be donated to Operation Homefront, which provides emergency assistance to families of military service members.
Children ages 12 and under must be accompanied by an adult. Presale $6, VIP $9. 7 to 8 p.m., The Fleet Reserve Association, 891 Valkenburgh St., Honolulu, fearbeyondhaunts.com.
Haunted Plantation
Oct. 9, 10, 16, 17, 18, 23, 24, 25, 30, 31
More than 60 actors dressed in a variety of costumes and makeup will chase, taunt and scare you as you roam through the many buildings inside Hawaii's Plantation Village at night. This haunted house is a popular one, so get your tickets in advance.
Ages 12 and under not allowed; ages 13-16 must be accompanied by an adult. $15 general, $20 fast pass, $30 VIP. 94-695 Waipahu St., Waipahu, (808) 677-0110, hawaiihauntedplantation.com.
Circus of the Dead
Now through Saturday, Oct. 31
Scream, tremble and push your friends out of the way (no, don't do that) at this Circus of the Dead haunted house where its creators say you'll meet your greatest fears.
$15 general, $25 fast pass. 7 p.m. to midnight, 98-1071 Moanalua Rd., Aiea, (808) 330-1600, scarehawaii.com.
Zombie Outbreak Experience
Oct. 16, 17, 18, 23, 24, 25, 28, 29, 30, 31
In the same vein as "The Walking Dead," entering this haunted attraction will immerse you in a zombie world filled with action, adventure and horror. Ages 14+, $20. Wed, Thurs. and Sun. 6:30 to 11 p.m.; Friday and Saturday 6:30 to 11:30 p.m., 1020 Auahi St., Bldg 3., theoutbreakexperience.com.
MAUI
Hyatt Haunted House
Wednesday, Oct. 28 through Friday, Oct. 30
This hotel gets the haunted treatment once again. The Hyatt Regency Maui Resort and Spa resurrects their annual maze of terror for three consecutive days, October 28–30, located right across from the Spa Django. Suitable for children and adults alike, this 10-minute attraction will have you on heightened alert with all the creepy costumes lurking around every corner. 100% of proceeds benefit the 2016 Charity Walk.
$3–$5, 200 Nohea Kai, Lahaina, 5 to 8 p.m., (808) 661-1234, maui.hyatt.com.
The Haunted Haiku Hike
Monday, Oct. 26 through Friday, Oct. 30
Because of Maui's famed scenery, this attraction exploits its great outdoors to turn the hills of Haiku into an outdoor haunted "house." The Haunted Haiku Hike located in upcountry Haiku presents a nighttime retelling of J. Barrie's classic "Peter Pan" at Awalau Farm (two miles up from Hanzawas) called "The Darkest Tales of Neverland."
During your hour-long journey encounter local twists on the story's characters—Paia Pan, Captain Cook, Tiger Liliuokalani—but don't be fooled by the clever names; it's promised to be scarier than the fable you grew up with.
Only a limited number of tickets are available and they're going fast. Costumes greatly encouraged, as long as you're wearing sturdy walking shoes.
$25 advance, $30 door, Awalau Farm, Haiku, 6:30 p.m. and 8 p.m., hauntedhaikuhike.com.
Fright Night Haunted House
Friday, Oct. 23 and Saturday, Oct. 24
Kalama Intermediate in Makawao sets up its haunted house for the entire family. The groups will also host games, food booths, a bouncing castle and a costume contest. On Friday, Kalama will also feature music and a dance. All proceeds benefit the school's music program.
$5, 120 Makani Rd., Makawao, 10/23 from 6 to 9:30pm, 10/24 from 4:30 to 10 p.m., (808) 573-8735, sites.google.com/site/kalamaintermediateschool.
KAUAI
Kukui Grove Center Haunted House
Oct 17, 24, 25, 26, 27, 28, 29, 31
This popular haunted house is family friendly and also supports a charity each week.
$5 adults, $3 children ages 10 and under, kukuigrovecenter.com/events-entertainment/kauais-community-haunted-house.

HAWAII ISLAND
Haunted Attraction
Tuesday, Oct. 27 through Saturday, Oct. 31
Bring the family to the Keauhou Shopping Center for a night of fun entertainment at its haunted attraction.
$8 general, children under 5 are free. 7 p.m. nightly. Keauhou Shopping Center, 78-6831 Alii Dr., Kailua-Kona, (808) 322-3000.