Hawaii's summertime bon dance season is under way. Here's where to go for festivals.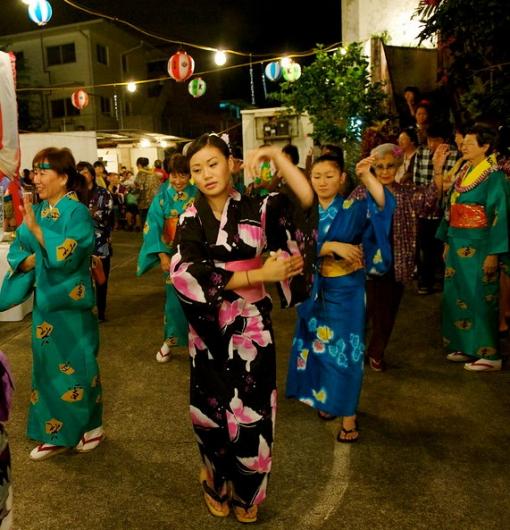 Bon dance season in Hawaii is now under way. The Japanese custom of o-bon — Hawaii shortens the word to bon —honors the spirits of family members who have passed away.
You'll find o-bon festivals slated for just about every weekend at Hawaii hongwanji missions and temples, from June through August. According to tradition, it is believed the summer months are when ancestral spirits return to visit family and friends.
If you're visiting the Islands this summer, we recommend taking part in at least one o-bon festival, especially if you have never experienced the annual Japanese Buddhist tradition in person. (The 2011 schedule of Hawaii bon dance events is on the next page.)
In Japan, the tradition of summer o-bon festivals dates back more than 500 years. Here in the Islands, the festivals serve as both a ceremony of spiritual remembrance and a celebration of cultural heritage and community. Everyone is welcome at an o-bon festival, regardless of religious background or ethnicity. As such, each temple's festival — and there are dozens throughout summer — is often well-attended.
O-bon festivals are best known for group dances known as bon-odori. The dance differs depending on the Japanese prefecture of origin, but generally involves dancers circling around a high wooden scaffold called a yagura (pictured, above) while swaying to the rhythms of folk songs and other music.
Note to novice dancers: the dance leaders are usually in the innermost circle. Just try to follow their moves. Beginners and children are welcome to take part in the dancing, which is intended to invite the ancestral spirits to visit family homes for the duration of the festival, which sometimes continues through two evenings.
The festivals are also known for serving up delicious Japanese foods such as andagi (sweet fried dough), grilled teri-beef and -chicken skewers, musubi (rice balls wrapped in dried seaweed), and stir-fry noodles. The menu is intends to both nourish dancers and raise money for the host hongwanji. So, bring your appetite. You may want to try all of it.
Also, make sure you bring a camera to capture a memory of it all. Want some ideas for potential photo opportunities? Before heading out to a bon dance, check out photographer Luke Takayama's online photo gallery, which spotlights Hawaii bon dances.
OAHU
• June 18 (Sat.) — Ewa Hongwanji, following 6 p.m. service (808-677-4221)
• June 24-25 (Fri.& Sat.) — Honpa Hongwanji Hawaii Betsuin, following 6 p.m. service (808-536-7044)
• June 24-25 (Fri. & Sat.) — Wahiawa Hongwanji, 7:30 p.m. (808-622-4320)
• July 1-2 (Fri. & Sat.) — Moiliili Hongwanji, following 7:15 p.m. service (808-949-1659)
• July 2 (Sat.) — Kanehohe Higashi Hongwanji, following 6 p.m. service (808-247-2661)
• July 8-9 (Fri. & Sat.) — Koboji Shingon Mission, 7 p.m. (808-841-7033)
• July 8-9 (Fri. & Sat.) — Wahpahu Hongwanji, following 6 p.m. service (808-677-4221)
• July 15-16 (Fri. & Sat.) — Haleiwa Shingon Mission, following 6:30 p.m. service (808-637-4423)
• July 15-16 (Fri.& Sat.) — Rissho Kosei Kai, 6 p.m. (808-455-3212)
• July 15-16 (Fri. & Sat.) — Shinshu Kyokai Mission, 7:30 p.m. (808-973-0150)
• July 16 (Sat.) — Waianae Hongwanji, 7 p.m. (808-677-4221)
• July 22-23 (Fri. & Sat.) — Higashi Hongwanji Hawaii Betsuin, following 7 p.m. service (808-531-9088)
• July 22-23 (Fri. & Sat.) — Jikoen Hongwanji Buddhist Temple, 6 p.m. (808-845-3422)
• July 22-23 (Fri. & Sat.) — Wahiawa Ryusenji Soto Mission, 7:30 p.m. (808-622-1429)

• July 22-23 (Fri. & Sat) — Haleiwa Jodo Mission, 8 p.m. (808-637-4382)
• July 29-30 (Fri. & Sat.) — Palolo Hongwanji, following 7 p.m. service (808-732-1491)
• Aug. 5-6 (Fri.& Sat.) — Manoa Koganji, 5:30 p.m. (808-988-4905)
• Aug. 5-6 (Fri. & Sat.) — Waipahu Soto Zen Temple Taiyoji, 7 p.m. (808-671-3103)
• Aug. 6 (Sat.) — Wailaua Hongwaji, following 6:30 p.m. service (808-637-4395)
• Aug. 12-13 (Fri. & Sat.) — Shingon Shu Hawaii, following 6 p.m. service (808-941-5663)
• Aug. 12-13 (Fri. & Sat.) — Pearl City Hongwanji, following 6:15 p.m. service (808-455-1680)
• Aug. 12-13 (Fri. & Sat.) — Soto Mission of Aiea-Taiheiji, 7 p.m. (808-488-6794)
• Aug. 19-20 (Fri. & Sat.) — Jodo Mission of Hawaii, 7:30 p.m. (808-949-3995)
• Aug. 19-20 (Fri.& Sat.) — Mililani Hongwanji, 7 p.m. (808-625-0925)
• Aug. 19-20 (Fri. & Sat.) — Soto Mission of Hawaii Shoboji, 7 p.m. (808-537-9409)
• Aug. 27 (Sat.) — Aiea Hongwanji, 7 p.m. (808-487-2626)
• Aug. 27 (Sat.) — Nichiren Mission of Hawaii, 5:30 p.m. (808-595-3517)
• Aug. 27 (Sat.) — Kapahulu Senior Center, 5 p.m. (808-737-1748)
• Sept. 3 (Sat.) — Okinawan Festival, 5:30 p.m. (808-676-5400)
• Sept. 17 (Sat.) — Autumn Okinawa Dance Festival at Hawaii Okinawa Center, 5 p.m. (808-676-5400)

BIG ISLAND
• June 18 (Sat.) — Papaikou Hongwanji, following 6 p.m. service, (808-964-1640)
• June 25 (Sat.) — Honomu Hongwaji, following 6 p.m. service,(808-963-6302)
• July 1-2 (Sat.) — Puna Hongwaji, following 6:30 p.m. service, (808-966-9981)
• July 2 (Sat.) — Kohala Hongwanji, following 6:30 p.m. service,(808-775-7532)
• July 8-9 (Fri./Sat.) — Hilo Meisho-in, 7:30 p.m., (808-935-6996)
• July 9 (Sat.) — Kohala Jodo Mission, 7 p.m., (808-889-5456)
• July 9 (Sat.) — Kona Daifukuji Soto Mission, following 6 p.m. service,(808-322-3524)
• July 9 (Sat.)— Paauilo Hongwanji, following 6 p.m. service, (808-775-7232)
• July 15-16 (Fri. & Sat.) — Honpa Hongwanji Hilo Betsuin, following 6 p.m. service, (808-961-6677)
• July 16 (Sat.) — Keei Hongwanji (Kona Hongwanji), following 6 p.m. service, (808-323-2993)
• July 16 (Sat.) — Honokaa Hongwanji, following 6:30 p.m. service, (808-775-7232)
• July 23 (Sat.) — Hilo Hooganji Mission, following 6 p.m. service, (808-935-8331)
• July 23 (Sat.) — Kona Hongwanji, following 6:30 p.m. lantern parade, (808-323-2993)
• July 23 (Sat.) — Papaaloa Hongwanji, following 6 p.m. service, (808-962-6340)
• July 30 (Sat.) — Hilo Taishoji Soto Mission, 7 p.m., (808-935-8407)
• Aug 6 (Sat.) — Hawi Jodo Mission, 7 p.m., (808-775-0965)
• Aug 6 (Sat.) — Hilo Nichiren Mission, following 6 p.m. service, (808-959-8894)
• Aug 6 (Sat.) — Paauilo Kongoji Mission, 7 p.m., (808-776-1474)
• Aug. 6 (Sat) — Kurtistown Jodo Mission, 7 p.m., (808-966-9777)
• Aug 13 (Sat.) — Hamakua Jodo Mission, 7 p.m., (808-889-5456)
• Aug 13 (Sat.) — Hilo Higashi Hongwanji, following 7 p.m. service, (808-935-8968)
• Aug 13 (Sat.) — Kona Koyasan Daishiji Mission, 7 p.m., (808-324-1741)
• Aug 20 (Sat.) — Hakalau Jodo Mission, following 7 p.m. service, (808-966-9777)
• Aug 22 (Sat.) — Kamuela Hongwanji, following 6:30 p.m. service, (808-775-7232)
• Aug 27 (Sat.) — Honohina Hongwanji, following 6 p.m. service, (808-963-6032)

• Aug 27 (Sat.) — Puna Hongwanji Pahoa Shibu, following 7 p.m. service, (808-966-9981)
KAUAI
• June 17-18 (Fri.& Sat.) — Koloa Jodo Mission, 7:30 p.m. (808-742-6735)
• June 24-25 (Fri.& Sat.) — West Kauai Hongwanji Hanapepe Temple, 7:30 p.m. (808-338-1537)
• July 8-9 (Fri. & Sat.) — Lihue Hongwanji, 7:30 p.m. (808-245-6262)
• July 15-16 (Fri. & Sat.) — Waimea Shingon Mission, following 7 p.m. service (808-388-1854)
• July 22-23 (Fri. & Sat.) — Kapaa Jodo Mission, 7:30 p.m. (808-822-4319)
• July 29-30 (Fri. & Sat.): West Kauai Hongwanji Waimea Temple, 7:30 p.m. (808-338-1537)
• Aug. 5-6 (Fri. & Sat.): Kapaa Hongwanji Buddhist Temple, 7:30 p.m. (808-822-4667)

MAUI, LANAI & MOKOKAI
• June 17 (Fri.) — Wailuku Jodo Mission, following 7 p.m. service, (808-244-0066)
• June 18 (Sat.) — Wailuku Shingon Mission, following 6:30 p.m. service, (808-242-5618)
• June 24-25 (Sat.) — Kahului Jodo Mission, following 7 p.m. service, (808-244-0066)
• July 2 (Sat.) — Lahaina Jodo Mission, following 7 p.m. service, toro nagashi at 7:45 p.m., (808-661-4304)
• July 8-9 (Fri. & Sat.) — Paia Mantokuji Soto Mission, 8 p.m. (808-579- 8051),
• July 9 (Sat.) — Lanai Hongwanji, 7 p.m., (808-565-6151)
• July 15-16 (Fri.& Sat) — Kahului Hongwanji, following 7 p.m. service, (808-871-4732)
• July 22-23 (Fri.& Sat.) — Makawao Hongwanji, following 6:30 p.m. service, (808-572-7229)
• July 29-30 (Fri. & Sat.) — Wailuku Hongwanji, following 7 p.m. service, (808-244-0406)
• July 30 (Sat.) — Guzeiji Soto Mission of Molokai, following 6 p.m. service, (808-537-9409)
• Aug. 6 (Sat.) — Kula Shingon Mission, following 6:30 p.m. service, (808-661-0466)
• Aug. 12-13 (Fri. & Sat.) — Lahaina Hongwanji, following 6 p.m. service, (808-661-0640)
• Aug 20 (Sat.) — Paia Rinzai Zen Mission, following 6 p.m. service, (808-579-9921)