Hawaiʻi's Ultimate Getaway for Families: Aulani, a Disney Resort & Spa
And five other Hawaiʻi hotels and resorts we think are perfect for the traveling family.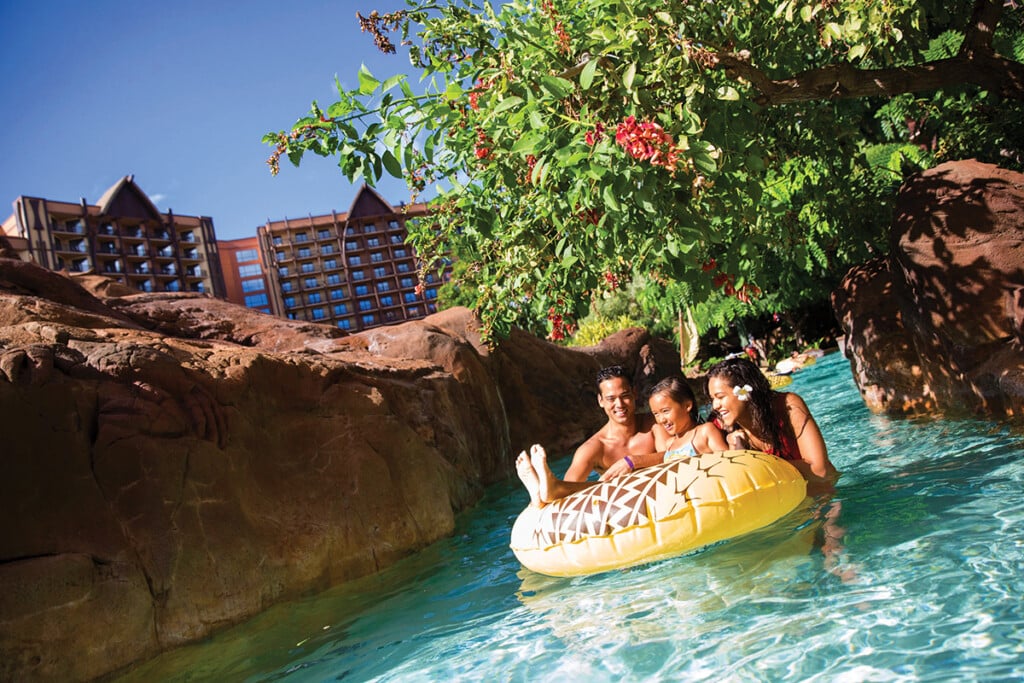 I didn't tell my 5-year-old son where we were going. All he knew was that we were spending a couple of nights at a hotel. He didn't ask me which hotel or where it was located. The only thing he wanted to know—and, really, the only thing most 5-year-olds want to know—is whether or not this hotel had a pool.
Oh, yes. Yes, it does.
In fact, the pools—all heated, FYI—at the Aulani, A Disney Resort & Spa in Ko 'Olina are what sets this hotel apart from others on O'ahu. The 21-acre oceanfront grounds boast three swimming pools; a crystal-clear saltwater lagoon filled with Hawai'i reef fish; a 2,200-square-foot interactive water play area for kids; and the Waikolohe Stream with a lazy river, waterslide and tube rides. It's essentially a super-awesome water playground for kids.
Then there's the magic of Disney. Bumping into Moana en route to the hot tub. High-fiving Goofy at breakfast at the Makahiki restaurant. Cooling off with a shave ice shaped like Mickey Mouse ears. You can't get this experience anywhere else in Hawai'i—or on the planet.
The first thing we did when we got to the hotel was hit the pools. We had a few hours before the hotel's signature lū'au, Ka Wa'a, started, and we wanted to make the most of the remaining sunshine.
There's a lot to do, and it's a bit overwhelming. Do we hit the waterslides first? Cruise in the lazy river? Play in the man-made lagoon right off the property?
I let my son choose. He headed straight for the Menehune Bridge, a play water area for kids under 49 inches tall, with rope bridges, waterslides and water shooters. It's named after the legendary little people and master builders—called Menehune—said to be responsible for mysterious happenings around the Islands. Since I was too tall to play here—no complaints from me!—I lounged on an open recliner with a rainbow shave ice from Mama's Snack Shop. The little eatery, built to resemble an Old Hawai'i plantation building complete with a corrugated tin roof, serves grab-and-go, kid-friendly items like fish and chips, coconut-breaded shrimp, mini corn dog bites and chicken tenders. (Parents, you can grab a local beer here, too.)
After about an hour, we decided to wander around the property. We watched kids shoot out of a twisting slide into a 4-foot pool of water and sunburned families ride inner tubes in the lazy river with a smiling Moana waving at them from a bridge. We made mental notes on what we were going to do the following day.
After a quick shower in our ocean-facing guest room, we headed to the Hālāwai Lawn for a lū'au. We were greeted with lei and a cocktail (a mocktail for my son), then we headed to the various crafts tables set up on the lawn. We got temporary tribal tattoos on our forearms, made wrist lei out of Dendrobium orchids and pounded taro into poi on a traditional papa ku'i 'ai (poi board) using a pōhaku ku'i 'ai (stone poi pounder). The whole time performers were on stage, playing Hawaiian music and dancing hula.
Lū'au, especially ones aimed at visitors, tend to be a little kitschy. Not this one. Everything, down to the kālua pig and haupia, felt authentic, like a backyard party at a friend's house. The entertainment, provided by Tihati Productions, was phenomenal; the main show was less than an hour and short enough for kids to sit through, and the dancing and music were mesmerizing. The show featured legends of the area and the lore of ancient Hawai'i. My son, who can't even sit through a full-length movie, was enthralled, especially with the fire dancers who told the story of the demigod Maui who lassoed the sun.
The following day we got up early and hit the pools. I had heard from friends who frequent Aulani that people reserve lounge chairs around the pool, hours before the pools open. (The rule is you have to be sitting on these chairs; you can't just leave a towel and walk away.) So we got there about an hour before the pools opened, grabbed breakfast at 'Ulu Café—it serves sandwiches, bagels, poke bowls, ice cream desserts and the best pizza on the property—and waited for the pools to open. We had a plan: go down as many times as we could on both slides until the lines got too long. Which is exactly what we did.
Don't assume this is a resort centered around kids. If you're visiting Aulani sans kids—or you've dropped them off at Aunty's Beach House, which provides free child care for kids 3 to 12—hit the resort's luxe full-service spa, one of the best on the island. Laniwai features dozens of Hawai'i-inspired spa treatments, including its signature lomilomi, a traditional Hawaiian massage that employs lomilomi sticks and warm river stones to release tension and stress, and kilikili (fine, gentle rain), a full-body exfoliation and massage using streaming jets of warm water. The spa's Kula Wai, a 5,000-square-foot retreat, is the only outdoor hydrotherapy garden on O'ahu, with private vitality pools, a reflexology path designed to massage feet and lower legs, six different rain-style showers, whirlpool jet spas and more.
The 'Ōhelo Room is also an adult favorite. The upscale outdoor lounge, which opens from 5 to 10 p.m., serves fun cocktails—mango sangria, crushed pineapple mule, coconut mojito—and a wide selection of local beers, wines and spirits, along with live music. The revolving pūpū (appetizer) menu is impressive, too, often featuring vegan tacos, 'ahi poke, local beef sliders and Korean-style wings.
If you decide to venture beyond the property—good luck convincing your kids of that!—you can hike the 5-mile (round-trip) Ka'ena Point Nature Reserve, located about 20 miles north of the resort. This coastal trail traverses the island's western coastline, one of the last intact sand dune ecosystems in the main Hawaiian Islands. It's home to native coastal plants like the dwarf naupaka and 'ilima and seabirds, including wedge-tailed shearwaters, Laysan albatrosses and the majestic 'iwa (great frigate bird). Twelve miles north of Aulani is famed Mākaha Beach, one of the island's best surf spots and site of the popular Buffalo's Big Board Surfing Classic every February.
Not that we did either of those on our recent trip. I couldn't get my son away from the pools—and you can't order a mai tai on a hike.
For more information on availability and bookings, visit disneyaulani.com.
Below, we've also included five hotels and resorts we think are perfect for families traveling to Hawaiʻi.
1. Hilton Waikoloa Village, Hawai'i Island
Sprawling over 62 oceanfront acres, this resort is a playground for families. Explore the unique saltwater lagoon on kayaks, stand-up paddleboard or water trikes, or splash in the hotel's three pools with waterfalls, one with a 175-foot waterslide. Kids love getting around the expansive resort on Swiss-made, air-conditioned trams or aboard canal boats. hiltonwaikoloavillage.com.
2. Grand Wailea, A Waldorf Astoria Resort, Maui
This luxe resort boasts an epic 770,000-gallon pool area that consists of nine individual pools on six different levels, connected by a river. There's also the 3-story-tall Lava Tube Slide and the Wailea Canyon, which includes jungle pools, slides, a rope swing, six waterfalls, caves and a sand beach. Parents, it's also got a swim-up bar. grandwailea.com.
3. Four Seasons Resort O'ahu at Ko 'Olina, O'ahu
This resort on O'ahu's West Side knows how to keep kids busy. It offers a free program daily for kids 5 to 12 with arts and crafts, outdoor sports, swimming and more. Other programs include a skateboard camp and keiki glamping. Need a stroller, diapers, play pen or bottle warmer? This hotel has those, too. fourseasons.com/oahu.
4. Grand Hyatt Kaua'i Resort & Spa, Kaua'i
Steps from the golden sands of Keoneloa Bay (aka Shipwreck Beach), this resort features a 1.5-acre saltwater lagoon and multilevel pools with a lava-rock-lined lazy river, secret caves and a 150-foot waterslide. Its restaurants offer kids-friendly options. hyatt.com/koloa.
5. The Westin Kā'anapali Ocean Resort Villas, Maui
Families love the spacious oceanfront luxury villas here, with kitchens, washers and dryers and comfy beds. There are six heated pools, including the massive South Pool with ocean views, waterfalls and a 90-foot slide. One of the pools has a pirate ship near a playground. marriott.com/en-us/hotels/oggws-the-westin-kaanapali-ocean-resort-villas.