Hawaii's unexpected shopping finds
Feel the sweet thrill of discovery at these shops and boutiques.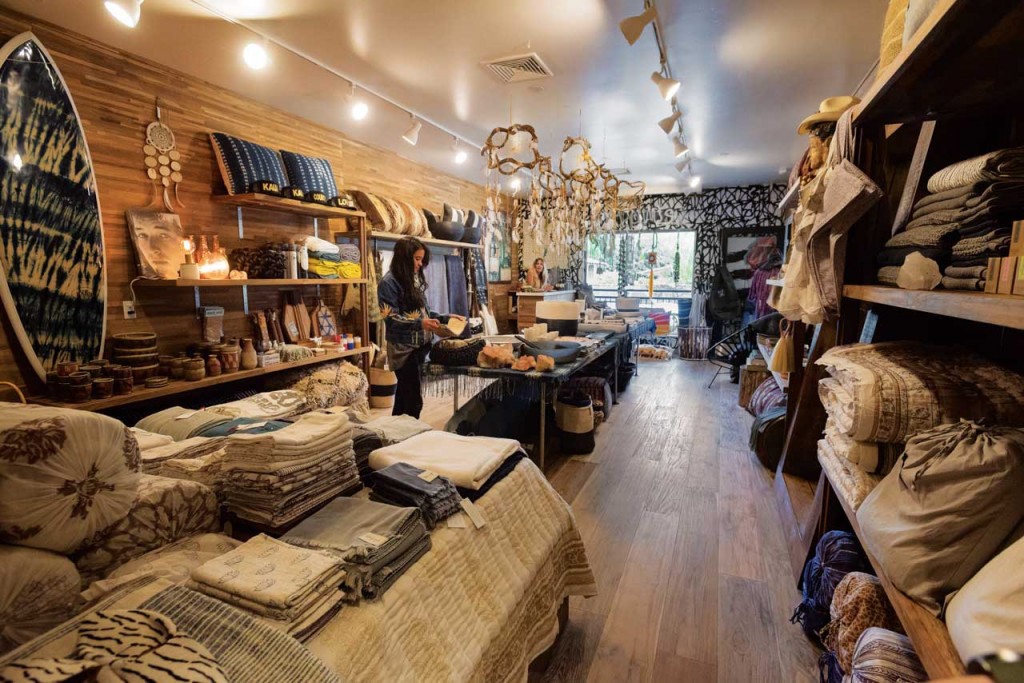 Looking for a vintage 1930s aloha shirt? Some unique, made-in-Hawaii gifts for your friends and family back home? That rare Hawaiian music single? These are the shops and boutiques you should search out when on Oahu, Maui, Kauai and Hawaii Island.
Bailey's Antiques and Aloha Shirts
For the serious aloha shirt aficionado, Bailey's is paradise. Off Kapahulu Avenue, a distinctive pink stucco building with hand-lettered signs serves as a portal to a different dimension, where racks are crammed with more than 15,000 aloha shirts of every style and fabric, from new shirts to rare vintage 1920s originals, with prices ranging from a few dollars to several thousand. Anthony Bourdain, Jimmy Buffett, Nicolas Cage and Peter Fonda are just a few of the customers who have bought shirts from owner and avid collector David Bailey. 517 Kapahulu Ave., Honolulu, Oahu, (808) 734-7628, alohashirts.com.
Makuu Farmers Market
With 1,500 weekly visitors and 150 merchants, Makuu Farmers Market is one of the biggest on the Big Island. Puna residents and east siders of all stripes meet each Sunday to buy and sell organic produce, gourmet dishes, homemade soaps, VHS tapes, healing crystals and glass pipes. Live music and an ohana atmosphere make it a weekly social event as much as it is a market. 15-2131 Keaau- Pahoa Rd., Pahoa, Hawaii Island, facebook.com/makuufarmersmarket.
Request Music
Don't let the bland exterior of Request Music fool you, this shop is every vinyl and music aficionado's dream. Stacks of records are on every surface of the shop's first floor, but wait until you get to the basement. Crudely assembled shelves, put together with cinder blocks and wood paneling, are filled to the brim with enough LPs to fill a day's worth of digging. 10 N. Market St., Wailuku, Maui, (808) 244-9315.
Driftwood Maui
Take a little bit of that Makawao paniolo charm and mix it with the creative mind of Carrie Gebb, owner of Paragon Salon, and you get Driftwood Maui, one of Hawaii's top boho-chic boutiques. The shop is described as "modern bohemian luxe" by Gebb, and many of the products are from local luxury designers, such as Acacia Swimwear and Annie Fischer Designs, with a curated selection of made-on-Maui edibles, including Maui Preserved pickles, Adoboloco hot sauces and Monkeypod Jam. 1152 Makawao Ave., Makawao, Maui, (808) 573-1152, driftwoodmaui.com.
Barn 808
Donavon Frankenreiter, a pro surfer and musician whose path has led to tours with the Dave Matthews Band and a solo career producing 10 albums, settled into Hanalei and opened The Barn 808 with his wife, Petra. It's a funky, eclectic boutique reflecting their sensibilities: think '70s rock-band aesthetic meets laid-back surf vibes. The stock refreshes constantly, reflecting the couple's finds when traveling, but you might find grungy tees, dreamy bohemian dresses and handcrafted earthenware. 5080 Kuhio Hwy., Hanalei, Kauai, (808) 320-3555, thebarn808.com.