Hawaii's winter surf: still massive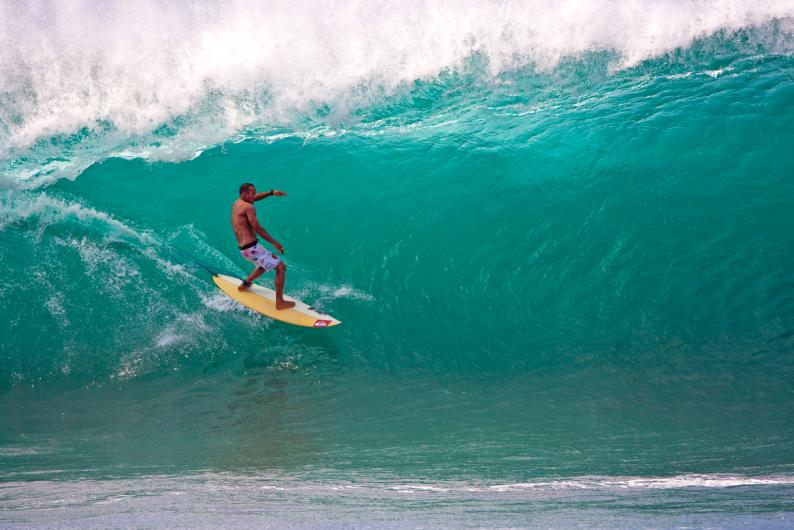 After a relatively calm few weeks on the water, Hawaii's big surf is back.
The National Weather Service issued a high surf warning today, reporting waves as large as 25- to 35- feet along north-facing shores of the major Hawaiian Islands except the Big Island. The NWS warning is in effect through 6 p.m. on Thursday, January 7, as conditions will stick around the next few days before petering out by the weekend.
Big surf is no stranger to Hawaii this time of the year. Just weeks ago, 40- to 45-foot-tall waves rolled through the north shores of Oahu and Maui—perfect conditions for a number of high profile surf contests including the Vans Triple Crown of Surfing and the Eddie Aikau Big Wave Invitational. This latest swell isn't as big, but should provide some great photo ops.
If you do make the trip to the North Shore, give yourself a couple hours by car, especially if traveling from Honolulu. Kamehameha Highway—the main road along the North Shore—shouldn't be gridlocked, but will likely see a fair amount of traffic. Roads may also close to traffic if wave heights become too large. You can check if roads are open by calling the Hawaii Department of Transportation at (808) 587-2160.
Of course when you're out watching the waves, be careful. The rule for viewing big surf safely? Don't stand anywhere that's wet. That goes for whether you're on the beach or the road. A wet surface likely means it's in the ocean's path.
For more wave watching tips and information—including where Hawaii's raging winter surf comes from—check out the January/Feburary 2010 issue of HAWAII Magazine. The issue is arriving in subscribers' mailboxes now, and available for purchase in a digital edition here. Look for the issue on newsstands and in bookstores nationwide.
See you at the beach!