Hidden Waikiki spots to visit after dark
When the sun goes down on another Waikiki day, you'll find us at these hidden haunts.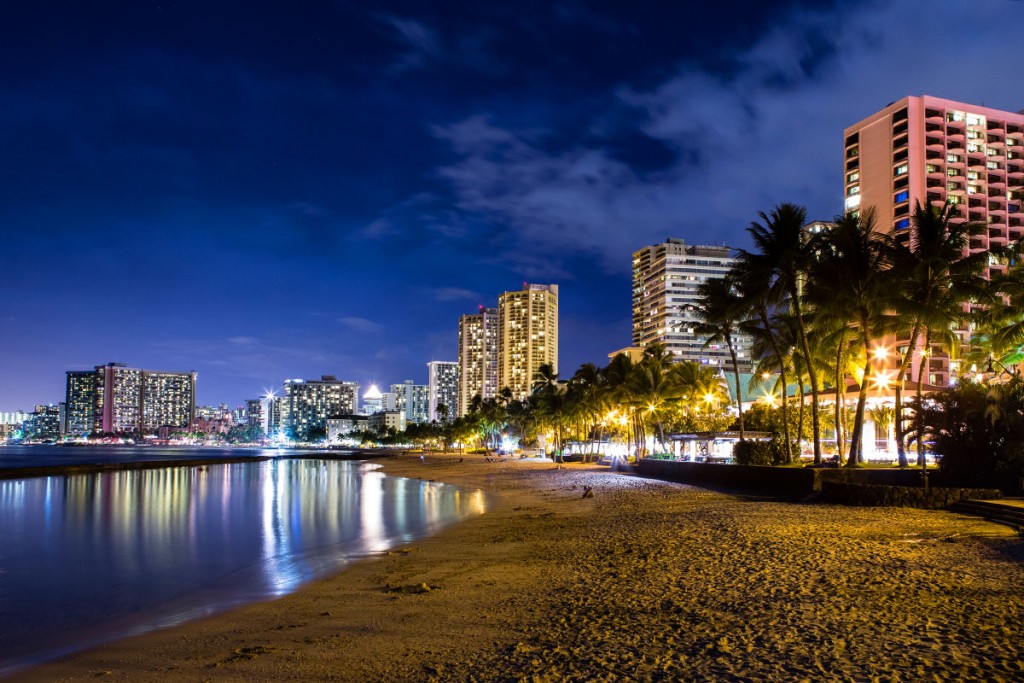 Hawaii's biggest, most-visited resort destination reveals a whole lot more for people in the mood to explore—from groovy eateries and night spots tucked away on its backstreets to tiny noodle shops and eclectic local retail stores hiding in plain sight off the main drags, Kalakaua Avenue and Kuhio Avenue.
Wang Chung's
At its new, larger location behind King's Village, you just might find Wang Chung's, the most welcoming and refreshingly unpretentious late-night karaoke bar in Waikiki. With a massive song list and talented bartenders who love singing just as much as you do, this might become your new favorite karaoke spot. 2424 Koa Ave., (808) 201-6369, wangchungs.com.
Karaoke GS Studio
Want your own version of "Lost in Translation's" Bob Harris-and-Charlotte karaoke scenes minus the trip to Tokyo? Get lost in the darkened hallways and private rooms of this walk-up Japanese karaoke bar buried in the interior of a nondescript side-street hotel. There's food and cocktail room service, an impressive menu of Asian and English tunes and no one will find you here if you don't want them to. Waikiki Joy Hotel, 320 Lewers St., (808) 921-3576, karaoke-gs.com.
L'Aperitif at La Mer
The L'Aperitif bar menu at the Halekulani hotel's award-winning ocean view French restaurant La Mer is akin to a splash of Paris cool in warm Waikiki. Crafted by Colin Field, longtime head bartender at the Ritz Paris hotel's pioneering Bar Hemingway, L'Aperitif pairs refined sips with elegant eats (a martini-style mojito Havatini with an oyster lychee-ginger sorbet, for example) to create palate-awakening highs. Halekulani Hotel, 2199 Kalia Road, (808) 923-2311, halekulani.com.
Arnold's Beach Bar
Waikiki's best dive bar isn't for folks who demand stuff like, say, hand-cut ice, fresh-ingredient-infused cocktails or locks on the bathroom stalls. Despite its name, it's also a bit of a walk from the beach. But if you're after a late-night spot where the beer is always cold and cheap, the décor is quasi-tiki bar, locals are talk-story friendly and the atmosphere is so laid back it's almost horizontal, Arnold's is forever welcoming. 339 Saratoga Road, (808) 924-6887, arnoldswaikiki.com.
Wailana Coffee House
A massive, 24-hour-a-day menu featuring every conceivable local comfort food dish, old-school American diner staples, big breakfast plates, Portuguese sweet bread French toast, macadamia nut pancakes and the funkiest coffee house cocktail lounge we've ever seen. After a long night out, but before bed, Wailana is always ready for us. 1860 Ala Moana Blvd., (808) 955-1764
Genius Lounge
A laidback backstreet escape from the cacophony of Waikiki's main drags, Genius Lounge offers up a solid menu of Japanese-inspired eats and cocktails (shochu, sake and Japanese whiskeys rule here) in a modern-meets-retro, wood-accented setting warmly illuminated by candles and soft lighting. A sublime after-hours spot for noshing and chat.
346 Lewers St., (808) 626-5362, geniusloungehawaii.com.
Kelly O'Neil's and the Irish Rose Saloon
Yes, Virginia, Waikiki really does have two Irish pubs. Smack in the middle of Waikiki, if slightly hidden on a side street, Kelley O'Neil's keeps youngish black-and-tan fans happy with live bands and a decent bar-food menu (the beef stew is a must-try). On Waikiki's outskirts, the Irish Rose Saloon attracts an older and more resident following, with louder, rowdier live bands and a hearty selection of Emerald Isle whiskeys and cold draught Irish brews taking the place of food. Warning: Smoking allowed at both pubs.
Kelley O'Neil's, 311 Lewers St., (808) 926-1777
Irish Rose Saloon, 478 Ena Road, (808) 947-3414, irishpubshawaii.com
Tattoolicious
Tattoolicious gets justified props for its designs—each of the shop's artists possesses a unique virtuosity in the art and often must be booked in advance for appointments. But our friends who dig body art also bestow praise on Tattoolicious for its obsessive cleanliness, unpretentious customer service and raising the traditional image of the tattoo parlor. 1909 Ala Wai Blvd. (808) 949-8287, tattoolicious.com