HIFF begins! The schedule. The 4 films we can't wait to see.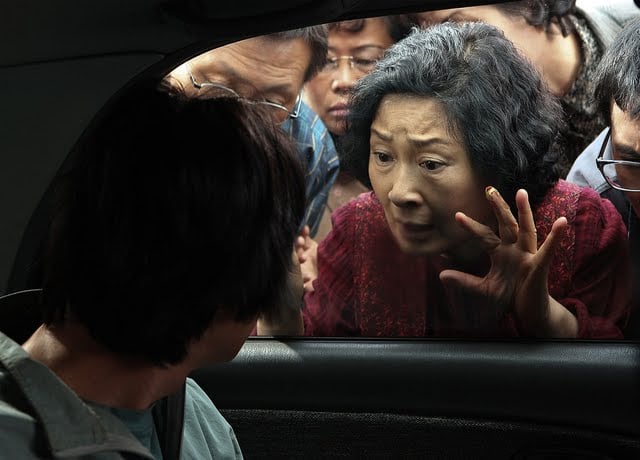 Film fanatics rejoice! The Hawaii International Film Festival is back!
The 29th annual installment of HIFF begins today and runs through the Oct. 25, 2009, with films screening at Regal Dole Cannery Stadium 18 Cinemas on Oahu.
Since its founding in 1981, HIFF has become the premier festival in the Islands for Hawaii, domestic and international independent film. The fest's signature mission in recent years, however, has been procuring the best cinema from Asia and the Pacific Rim—often films you won't find anywhere else in one place. This year, more than 170 films from around the world will be screened at HIFF, continuing the festival's global span.
You'll find the entire HIFF schedule here
But enough talk about the fest. What you really want to know (at least in my perfect dream of matching Roger Ebert thumb for thumb in the realm of film criticism) is what HIFF films you'll find me taking an aisle seat at.
So here they are: The 4 films I'm looking forward to seeing most at HIFF (in no particular order):
#1
"Mother"
I always enjoy a good Korean psychologial thriller. So it's just my luck, I guess, that one kicks off the festival's opening night. In Mother, an acupuncturist's quiet, small-town life turns upside down when her mentally challenged son is accused of murdering a young woman. As she races to prove her son's innocence, secrets about the small town slowly unfold. The film is Korea's official entry into the Best Foreign Language Film category for the 2010 Academy Awards. It makes its international premiere tonight at HIFF.
Screening: Thurs., Oct. 15, 8:00 P.M., Fri., Oct. 16, 8:45 P.M.
#2
"Ong Bak 2: The Beginning"
With its promise of brilliantly choreographed fights and breakneck action, Thailand's Ong Bak 2: The Beginning sounds like my kind of action flick. Muay Thai fighter Tony Jaa stars once again in this prequel to the 2003 original—though in a different role. Jaa plays a young man who escapes slavery and trains in various styles of Asian martial arts, while seeking vengeance on his former captors. Sweet.
Screening: Mon., Oct. 19, 8:45 P.M.; Sun., Oct. 18, 9:30 P.M.
#3
"Vampire Girl vs. Frankenstein Girl"
Does an over-the-top Japanese horror flick with a little romance thrown in for good measure sound as intriguing to you as it does to me? Thought so. I'll see you at Vampire Girl Vs. Frankenstein Girl. A teenage vampire and a young woman—the latter killed then revived as a Frakenstein-esque monster—battle over the affections of a classmate. The result isn't your typical Friday night date movie, or high school coming-of-age drama. If the trailer is any indication, the flick also isn't for the faint of heart. There's blood and gore, and lots of it.
Screening: Thurs., Oct. 15, 10:30 P.M.; Fri., Oct. 16, 10:30 P.M.
#4
"Red Cliff"
HIFF's Centerpiece film, Red Cliff, promises an epic tale of a Chinese military conflict of unprecedented scale. Set in the year 208 A.D., the plot follows an over-zealous prime minister and his plans to unify all of China by conquering surrounding provinces. His embattled neighbor kingdoms forge an unlikely alliance and war ensues—culminating in the eponymous Battle of Red Cliff where tens of thousands died and two thousand ships burned. Need another reason to see Red Cliff? The film marks action auteur John Woo's much heralded return to directing Chinese cinema. Also being touted as the largest film production in Chinese history, Red Cliff arrives at HIFF with immense hype behind it. We're eager to see if Woo delivers the goods.
Screenings: Thurs., Oct. 15, 10:30 P.M.; Fri., Oct. 16, 10:30 P.M.
Other HIFF films/events worth checking out:
• The buzzed-about Barbarian Princess tells the story of Hawaii's Princess Kaiulani who, at age 13, was separated from her family and sent to live in Victorian England. A few have criticized the Hawaii-lensed film—digging at everything from the story's romantic focus to its questionable title. We're just anxious to see it.
(Fri., Oct. 16, 8:00 P.M., at Hawaii Theatre; Sun., Oct. 25, 10 A.M., 12:30 P.M., 8:30 P.M. at Dole Cannery Cinemas.)
• A Japanese remake of the 2004 U.S. film Sideways about a pair of forty-something men hoping to sow their wild oats one last time in California's wine country. Academy-Award nominated actress Rinko Kikuchi (Babel) stars.
(Sat., Oct 17, 6:15 P.M.; Sat., Oct. 24, 12:45 P.M.)
• The documentary State of Aloha chronicles Hawaii's 50 years of statehood through the voices of 30 notable island figures including U.S. Senator Daniel Inouye and late entertainer Don Ho.
(Sun., Oct. 18, 2:45 P.M.; Thurs., Oct 22, 2:00 P.M.)
• An afternoon of master class seminars led by the crew of the Hawaii-filmed ABC TV hit Lost, covering topics ranging from producing and directing the show, to production design, costumes and props happens Saturday, Oct. 17. Classes will be held at the Dole Cannery site. Post-sunset, there's "An Evening with Damon Lindelof and Carlton Cuse"—an exclusive pow-wow session with Lost's co-creators. That happens at the Royal Hawaiian Theater in Waikiki, at 8 p.m. Click here for a HawaiiMagazine.com story on all of HIFF's Lost events

Tickets for all HIFF events may be purchased at the HIFF box office at Dole Cannery (650 Iwilei Rd., Suite 102A, Honolulu, open daily 11 a.m.-6 p.m.), online by clicking here, or by calling (808) 548-5905.
See you at the movies!