HIFF closes with a bang bang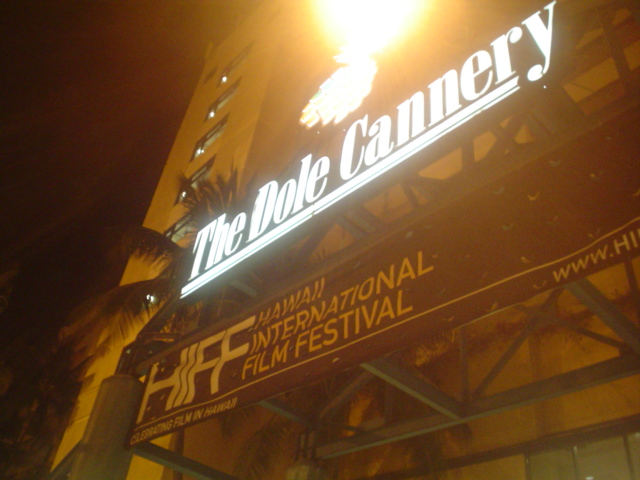 The curtain was finally lowered on this year's Hawaii International Film Festival last weekend at Dole Cannery. We've been following the HIFF over the last few weeks. And though the HIFF has passed, we're glad to report it went out with guns blazing.
Without a doubt, the biggest event was closing night film, The Good, The Bad, The Weird. The western played to a packed house in not one, but two theaters on Saturday evening.
The film's star Woo-sung Jung (pictured below, he's the one with the cowboy hat and rifle) and director Ji-Woon Kim were on hand to receive HIFF honors for achievement in acting and the Maverick award, respectively. Woo-sung's English was limited, but he did get one point across: "I played the Good." Thanks, Woo-sung.
And the film? It's up there on my list of all-time Korean westerns—an action-packed romp with just the right amount of campiness. By no means a kid's movie, it's marked with the kind of stylized violence reminiscent of Sam Peckinpah's classic shoot 'em up, The Wild Bunch.
My only criticism of the film is how the action translated to the screen; at times the camera work was relentless and visually disorienting.


Other highlights from my weekend:
The Killing of a Chinese Cookie: The weird little documentary about the real history behind the fortune cookie (They're not really Chinese!) and its effect on American pop culture.
Noho Hewa: The Wrongful Occupation of Hawaii: An emotionally loaded film which explores the dispossession and displacement of the Hawaiian population. It won the HIFF's Golden Orchid Award for best documentary.
Along with Noho Hewa, films honored include Taiwanese film Cape No. 7, the Golden Orchid Award winner for best narrative, and the Viewers Choice Award winner, The Hollow. For a complete list of winners, click here.
Or for more information on the HIFF or any of the films featured, click here, or call (808) 528-3456.