Hiker-level views of scenic Big Island trails coming to Google Street View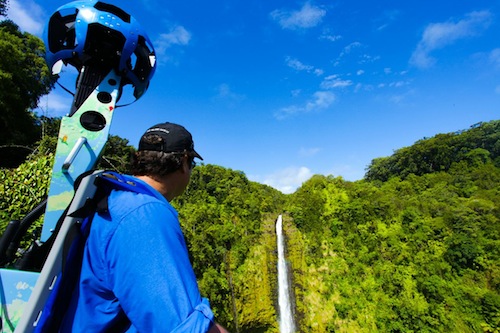 Google's Street View web-mapping technology will be going off-road and onto the lush backcountry trails of the Big Island this fall, aiming to offer hiker's-view photographic guides to more than 25 of the island's best hiking trails.
Street View Trekker is the latest addition to Google's Street View application, which already offers Web users straight-from-the-asphalt, 360-degree views of streets, highways, freeways and backcountry roads from around the world.
Using images shot at two-second intervals from multiple cameras on a vehicle-mounted rig, the Google Street View team stitches collected images together to create a continuous drivers-level panoramic view of locations around the world. Launched in 2007, Google Street View now covers more than 5 million miles of road on seven continents.
The Trekker project aims to take Street View beyond streets and roads, and into terrain largely accessible only by foot. In a partnership with Kailua-Kona-based outdoor activity company Hawaii Forest & Trail, the Trekker team plans to capture views from more than 25 state-managed hiking trails around the Big Island. The high-resolution photographs, showcasing views of some of the island's most scenic natural wonders, should also prove to be a useful guide for hikers.
Beginning this summer, guides from Hawaii Forest & Trail will take to hiking trails around the Big Island—including Akaka Falls State Park, Pololu Valley and Hawaii Volcanoes National Park—with Google's Trekker equipment. Weighing 40 pounds each with 15 cameras capturing 360-degree images, the Trekker is a modified version of Google's vehicle-mounted Street View equipment, downsized to a battery-powered super-backpack carried by a robust hiker.
The Trekker team has already photographed trails at popular destinations such as the Grand Canyon and the Galapagos Islands. The Big Island mapping project will be the team's first with images collected by an outside partner using the Trekker equipment.
"Finally being able to photograph and share images from a variety of different terrains, including rainforests, beaches, and even trails paved with hardened lava rock will help make Google Maps all the more comprehensive and useful for both tourists and armchair travellers alike," said Street View program manager Deanna Yick, in a media release from the Hawaii Visitors & Convention Bureau, another partner in the Big Island project.
The first images captured by Hawaii Forest & Trail are expected to begin appearing on Street View parent application Google Maps and the Hawaii Visitors and Convention Bureau website by the end of the year. The Trekker project is expected to expand the to cover Kauai, Oahu, Maui, Lanai, and Molokai hiking trails in the future.
For more information about Google Maps and Street View, click here. Starting on July 1, Hawaii Forest and Trail will begin blogging about the project.