Hiking Kauai's Mahaulepu Heritage Trail
There's an untamed "living museum" of natural and cultural history to discover.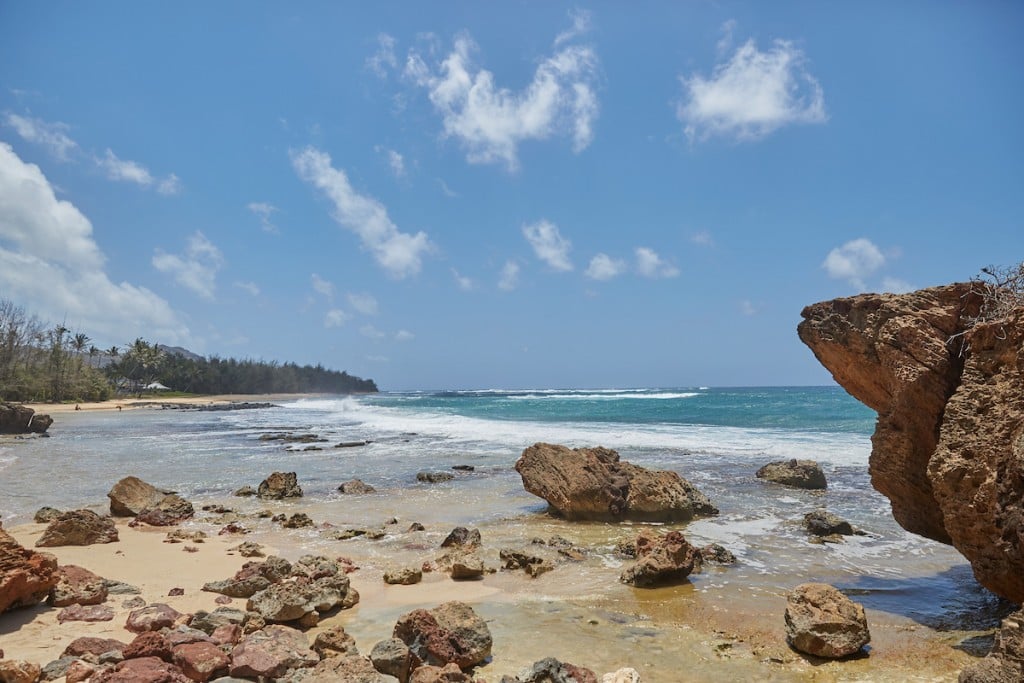 Climbing onto craggy sand dunes near the dry, southernmost tip of Kauai, I immediately, unexpectedly catch my first glimpse of the reason I've set aside an afternoon to come here.
Before me is near-pristine shoreline, winding all the way from the eastern end of Keoneloa Bay, near the resort area of Poipu, to secluded Mahaulepu Beach and beyond to Kawailoa Bay, even more remote.
My view from the top of a rough-textured cliff area called Makawehi Point has the feel of a landscape umpteen millennia in the making. Framed by cloud-streaked, azure skies and seawater partitioned into perhaps a half-dozen shimmering shades of aqua blue, the sun-bleached and wave-eroded lithified ridges of my intended hike, the Mahaulepu Heritage Trail, are starkly stunning.
Makawehi Point, also known as the Paa Ridge, is among several geological points of interest on Mahaulepu Heritage Trail, a series of unmarked footpaths clinging to about three miles of the Garden Isle's paa (rocky and dry) south shore. The trail has no formal markers so its true mileage is anyone's guess. But, for me, the guesswork required in wandering this self-guided hike is part of the fun.
As outlined in a guide map produced and distributed by the nonprofit Poipu Beach Foundation, the Heritage Trail begins at Keoneloa Beach, also known as "Shipwrecks Beach." Decades ago, a fishing vessel is said to have run aground on Keoneloa Bay's sandbar, stranding it on the beach. Any remaining splintered remnants of the vessel are now lost to sand and sea, but the nickname lingers.
The Heritage Trail's overall elevation ascent of a mere 150 feet ranks it among the least difficult hikes on the island. When I mention this to my camera-toting companion, he smiles and seems a bit relieved. With or without a backpack filled with heavy photo gear, my friend prefers easygoing ambling.
Less than a mile into our excursion, however, it's clear to me that one thing on our trek will not be effortless: footwork. That is, remembering to take my eyes off the scenery long enough to watch my step through patches of jagged-edged, crumbling rocks and tangles of tree roots. I'm grateful I selected a pair of sturdy running shoes for the day.
Our first stop on the trail is Makawehi Point. The area's lithification (transformation of sediment to stone) began some 125,000 years ago with the accumulation of sand dunes along the shore. The cementing of settling sand and volcanic sediment beneath it sculpted the point's cliffs and ledges, which today are continually being chipped away by wave erosion and trade winds.
Pushing on beyond the dunes we find sets of jutting pinnacles composed of limestone and sandstone. The fragile spire and needle sculptures are the natural artwork resulting from eons of rainwater washing into crevices and formation fractures. Here, and elsewhere on the trail, paleontologists have uncovered bones of now-extinct birds that lived on Kauai when Polynesian voyagers first settled in the Islands.
A downward dip in the trail soon takes us to lava rock tide pools bordering Ho'oūlui'a, an ancient fishing heiau (temple). A sign here suggests we not stray from a narrow footpath bordering these sacred grounds. Early Hawaiians are believed to have left offerings of fish at Hoouluia in hopes of securing good fishing.
On the far side of the heiau grounds, the trail takes a somewhat jarring detour toward modern-day civilization in the form of Poipu Bay Golf Course. A sign posted on a fenced-off stretch of the trail notes that its closure is due to landslides along the shoreline. Walking alongside the course, we watch a family of nene (Hawaiian geese) busily rambling near one of the greens. The ever-stately, indigenous state birds seem completely unfazed by the activities of golfers and zigzagging carts.
We drop into the original Heritage Trail once again near Punahoa Point, a showcase of dunes formed about 350,000 years ago, making these the oldest in the region. The point is also a perennially popular fishing area. From a shoreline perch, we spot Mahaulepu Beach, our hiking destination and turnaround point, some distance away.
Near the beach we find the maw of Makauwahi Sinkhole, which marks a portion of the largest limestone cave found in Hawaii. At the intersection of Mahaulepu Beach and Waiopili Stream are scores of petroglyphs seen only when the sea sweeps away a thick cover of white sand. Sadly, none of the glyph field is visible today.
According to the Heritage Trail guide, Mahaulepu Beach was named after a battle staged here in the 1300s when Kauai warriors defeated invaders from the Big Island. (Mahaulepu's literal English translation is "falling together.") Centuries later, when Kamehameha the Great largely succeeded in uniting the Hawaiian Islands under his rule circa 1795, feisty Kaua'i and neighboring Niihau continued to resist for another 15 years.
Echoing that stouthearted spirit, a grassroots organization called Malama Mahaulepu has in recent years opposed development plans for this area, essentially the last undeveloped accessible coastal region on Kauai's south shore.
While exploring quiet Mahaulepu Beach, I kick off my running shoes and stroll along an expanse of wet sand. The waters here can be rough, with strong currents, sharp coral and big swells breaking on the rocks. But today the surf is gentle.
Gazing back toward the trailhead miles away, I'm in awe of nature's artistry. Malama Mahaulepu refers to this rugged stretch of shoreline as an untamed "living museum" of natural and cultural history.
I hope it remains this way for millennia to come.