Hilton Hawaiian Village's Tropics Bar & Grill reopens with new menu, dining room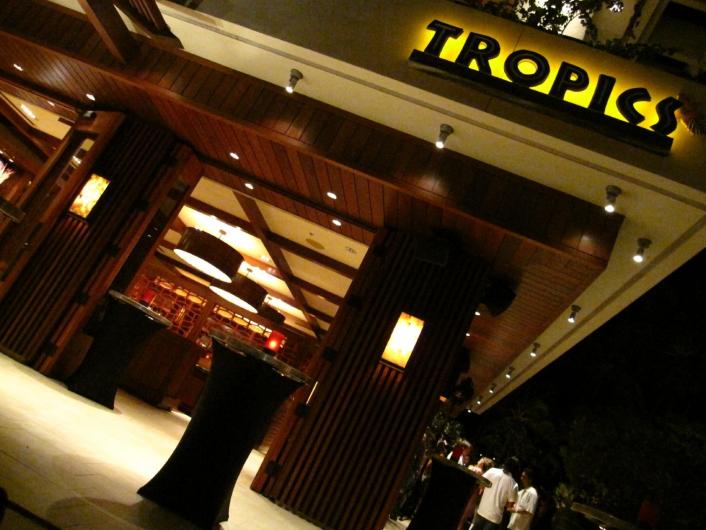 The Hilton Hawaiian Village's completely redesigned beachfront Tropics Bar & Grill threw itself a grand-reopening party recently with fireworks, live music and serious food.
We were there—making our way through the crowded room chasing servers carrying trays full of tasty edibles. There was much to see, as well as nosh.
It's a whole new Tropics—at a cost of $11 million in renovations, free of all remnants of its past lives as a disco and showroom once occupied by singer/flamenco guitarist Charo.
The resort has made the most of the former Tropics Bar & Beach Café's prime Waikiki beachfront location. The open-air restaurant now has a larger outdoor patio with tables overlooking the beach and ocean beyond, complete with fire pits. Inside the spacious dining room: wood and bamboo accents, floral patterns and retro-tropical artwork.
A performance by longtime-favorite contemporary Island music duo Cecilio & Kapono—doing a full set list of their classics, no less—kept the opening night crowd happy long after their appetites were sated. Ditto, the Hilton Hawaiian Village's regular Friday evening fireworks show, lighting up clear night skies over the resort.
Still, the best thing about the evening for us was sampling the new menu emphasizing Hawaii farm-grown ingredients: furikake-seasoned fish and chips, Kona kampachi with green tea soba noodles, New York steak with Hamakua mushrooms (pictured below), seared ahi on flax seed crostini, roast Chinese duck lettuce wraps, Kona coffee mascarpone cheesecake and much more.
Hilton Hawaiian Village executive chef Jeffrey Vigilla and Mark Ellman, chef and owner of Mala Ocean Tavern on Maui, collaborated on the Tropics menu aiming to utilize as much fresh, sustainable Hawaii-raised produce as possible. The vendor list Vigilla buys from includes Oahu's Nalo Farms and the Big Island of Hawaii's Kahua Ranch, Hamakua Mushrooms, Hawaii Island Goat Dairy and Hawaiian Vanilla Company.
Tropics Bar & Grill is open daily for breakfast from 7 a.m. to 10 a.m., and all-day dining from 11 a.m. to 10 p.m. The outdoor lanai will feature live Hawaiian and Island contemporary music nightly.
Click here for the Tropics menu.