Historic Hawaii Theatre inks deal with Indigo Restaurant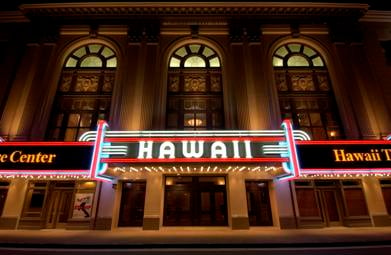 Honolulu's Hawaii Theatre recently signed a 10-year lease renewal with chef Glenn Chu's Indigo Restaurant. This is a big deal. Why?
The two were prime movers in the restoration of Honolulu's Chinatown and the creation of the Chinatown Arts District.
An nonprofit organization saved the 1922 Hawaii Theatre from demolition and painstakingly restored it to all its gilded glory.
Called "The Pride of the Pacific" when it opened, the theatre was showplace for vaudeville, plays, musicals and silent films. It reopened in 1996 as a 1,400-seat state-of-the-art performance space. In 2005 it was named the Outstanding Historic Theatre in America by League of Historic American Theatres.
Chef Glenn Chu's Indigo Restaurant was the first fine-dining restaurant to open in the area, turning a historic building owned by the theatre into a stylish, open-air, Asian-inspired space. A popular afterhours spot, it's also one of President Barack Obama's favorite Honolulu restaurants.
Both the restaurant and theatre were forerunners in the contemporary Chinatown scene—which now bustles with galleries, nightspots, restaurants and performance spaces.
It took so long to renegotiate the lease, many in Honolulu were worried that Indigo would close or move. But at a luncheon last week, it was announced that the lease had been renewed and the award-winning restaurant was already renovating.
Given the menu at the luncheon—Goat Cheese wontons, Ten Thousand Chili Chicken, Mongolian Grilled Lamb Chops, Chocolate Cloud with Summer Berries—we're glad Indigo is staying. And that Honolulu's Chinatown continues to thrive.