"History of Volcano House" walking tour shares tales of historic Kilauea volcano hotel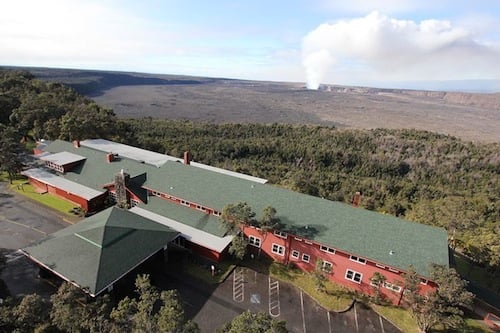 A place like the iconic Volcano House hotel is bound to have some interesting stories.
Several variants of the landmark Hawaii Volcanoes National Park hotel have been built over the years—the earliest was constructed in 1846, its current structure on the edge of Kilauea volcano's summit caldera was built in 1941. Shuttered for three years, the hotel finally reopened this summer following $7 million in fire, safety, seismic and aesthetic upgrades to guest rooms and common areas completed by the National Park Service.

Visitors exploring the Big Island's Hawaii Volcanoes National Park on the right date and at the right time now have a chance to hear some of those old Volcano House tales via new, hour-long park ranger-guided walks, which began earlier this month. The "History of Volcano House" walking tour coincides with the reopening of the 33-room hotel.
Volcano House, built in 1866
Why "on the right date and at the right time?" The walk is offered multiple times each week, according to a park news release, but you'll have to check the list of hikes and programs posted daily on the park bulletin board outside the Kilauea Visitor Center to see if it's offered on the day you're there.
The walk sounds worth that extra effort. It includes stops at a halau (meeting house) similar to the original Volcano House's 1846 grass-and-wood structure; a visit to the third Volcano House structure, built in 1877 and now home to the Volcano Art Center; and ends at the current Volcano House hotel designed by prominent Hawaii architect Charles W. Dickey, with stories shared throughout the walk.
"The Volcano House hotel has always captivated people," said Travis Delimont, the park ranger who developed the guided walk, in a news release. "Its rich and eclectic history has contributed to the personality of Hawaii Volcanoes National Park today. There are many interesting stories and characters along the way, and we want to share them with everyone."
Volcano House, 1877 version, now home to Volcano Art Center
The Volcano House is the only lodging property with hotel services located within the vast boundaries of Hawaii Volcanoes National Park. The original 1846 structure was a simple, one-room shelter made of grass and native ohia wood poles, constructed at the rim of Kilauea caldera by American businessman Benjamin Pitman. Consequent Volcano House lodging structures were built in 1866, 1877 and 1941.
Notable guest staying at the Volcano House over its long history and multiple structures include writers Mark Twai and Jack London, Pres. Franklin D. Roosevelt and 19th century English explorer and natural historian Isabella Bird.
For additional information about the Volcano House hotel, click here.
For more information about Hawaii Volcanoes National Park, click here.