Hokulea's first crew members reflect on its historic maiden voyage
These seven Hokulea voyagers share their memories from the past.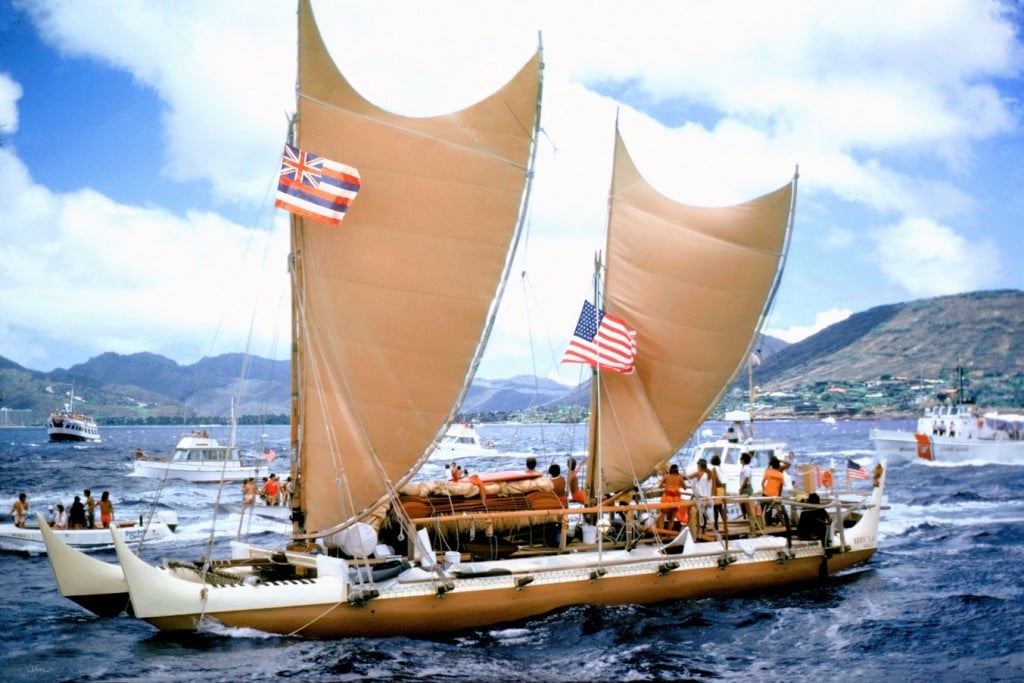 When the Hokulea first sailed around Hawaii in the early '70s, many described it as the most beautiful thing they had ever seen. Its magnetism drew people to it and brought with it a resurgence of Hawaiian pride.
"Hawaiian families would picnic and spend a whole day at the beach just to stare at the canoe," says Billy Richards, a 1976 crew member who sailed from Hawaii to Tahiti on its maiden voyage. "If you wanted to do something Hawaiian, you had to dance hula," he says. "There was very little having to do with Hawaiian. No speaking [the language]. Hawaiian history was the Japanese bombed Pearl Harbor."
Hokulea's first voyage away from Hawaii on May 1, 1976 took her to Tahiti and back—two crews and 52 days at sea. What initially began as a scientific experiment to prove that Polynesians navigated the Pacific, and a nod to the United States bicentennial, ended up being a cultural revitalization in the art of canoe voyaging and navigation. Some, like Richards, believe the first voyage was a catalyst to all of the Hawaiian programs we have today.
Forty-one years have gone by since Hokulea's maiden voyage, and the full impact of the cultural awakening and the knowledge that has been passed down to the younger crews is still being felt. "They need to really understand and allow those sacrifices, like Hokulea and Kahoolawe, to continue to inspire them. For themselves, their family and the community," Richards says, speaking not just about the crew, but about everyone. As a new generation of navigators have extended Hokulea's legacy with the Worldwide Voyage, we look to the pioneers for their reflections, manao (thoughts) and wisdom to those continuing to navigate the world.
Billy Richards
From Oahu
Crew: First (Hawaii to Tahiti)
Richards was on Hawaii Island helping a canoe club with a race at Honaunau Bay when he first set foot on the Hokulea. "The Hokulea crew came down [to the bay], and they looked great. A lot of them were in malo (loincloth), maile lei, ti leaf lei and they were going to depart the Big Island," he says. He was asked to help shuttle the crew back to the canoe. During the pule (prayer), before the Hokulea set sail, a crew member invited him aboard. "He reached out his hand and pulled me up, and said, 'I think you belong on this boat.' It was a defining moment for me."
Abraham "Snake" Ah Hee
From Maui
Crew: Second (Tahiti to Hawaii)
Abraham "Snake" Ah Hee was on his way to work at a hotel when he saw the Hokulea for the first time sailing to Lahaina. "It looked really old. I had never seen the canoe before," he says.
Ah Hee, a waterman all his life, was asked to try out to be a crew member. "I was raised fishing and surfing. I was a lifeguard, too, at the hotel," he says. He trained every weekend, then was given an invitation to be part of the first Hokulea voyage. "When you go on a trip like that, you have to make sure everything is pono (right) at home first," he says. "Once you and the other crew members have that, then they can work together as one family."
Ah Hee took the lead as a cook during the 1976 voyage, and took care of the crew members when they were sick. "There's going to be good times and bad times, but you just got to overcome that," he says.
Ben Finney
From California
Crew: First (Hawaii to Tahiti)
At 16, Ben Finney met Niihau-born Kawika Kapahulehua in Waikiki. Kapahulehua was crewing beach catamarans at the time. "He was a key figure in introducing me to sailing catamarans," says Finney. Kapahulehua would later captain Hokulea's first voyage. "He told me stories he had heard as a child about how his ancestors sailed up here from Tahiti, and that became my fixation." Finney thought it would be impactful to sail replicas of old canoes, and also wanted to prove that Polynesians were able to navigate through the Pacific.
Finney continued on with his education, earning his Ph.D. in anthropology from Harvard, while never losing sight of his goal. When he moved back to Hawaii to finally begin work on his canoe project, Herb Kane and Tommy Holmes contacted him. "We had a meeting at my house and Herb says, 'Let's do it. Let's build a big canoe.' And, so, we formed the Polynesian Voyaging Society." Finney says he reluctantly took the position of president, while Kane and Holmes became vice president and secretary, respectively.
Looking back, Finney is proud about how far things have come. "I wanted this project to revive voyaging by rebuilding the canoes, relearning how to sail and navigate them. And, then, have Hawaiians and other Polynesians be the leaders of this activity. And that's exactly what happened."
Penny Rawlins Martin
From Molokai
Crew: Second (Tahiti to Hawaii)
"A lot of people did not want women to go, but we had our advocates who fought hard," Penny Rawlins Martin says. She was one of only two women who took part in Hokulea's first voyage. With their support, some luck and the respect she says fellow female crew member, Keani Reiner, had earned as a hardworking waa (canoe) woman, Martin was invited to sail aboard the Hokulea, too.
"When [we] came home and [were] standing on deck, and standing in the footprints of our ancestors, you realize how special Hawaii is and how lucky you are to live here," she says. "You realize we need to be better stewards of this island called Earth. The lessons learned on the canoe are so applicable to the way you live on land. And, Hokulea has proven itself to be such a good ambassador."
Martin couldn't be prouder of the new women on the canoe. "They're so educated. They're physically in shape. They have goals. They're focused and they know why they're there," she says, noting how different it is now compared to the early days when navigation and migration were not taught. Becoming a crew member is a lifetime journey, she says. "It's not sail, go home and pau. You have that kuleana to take what you learned on the canoe and share it."
Richard "Buffalo" Keaulana
From Oahu
Crew: First (Hawaii to Tahiti)
Prior to 1970, Richard "Buffalo" Keaulana was already making a name for himself. He was a beach boy in Waikiki and worked alongside Duke Kahanamoku, while winning surf competitions. After saving lives as a park-keeper in Makaha, Keaulana was appointed as lifeguard by the mayor. It was at this point that Keaulana was invited to take part in Hokulea's maiden voyage as steersman. "I just wanted to surf. So, I steer all the way, and I'm surfing. To catch a wave, you get off the wave, because you want to stay with the wind … All the days and nights, whenever you're steering, you look and find the birds doing the same thing you're doing … They stay right above the sail, and the wind's blowing right there. It's really nice."
Keaulana prevented the Hokulea from sinking on the 1976 trip by using a steersman's sense. "Because I'm a steersman, I know how the boat reacts," he says. Some crew members did not believe him when he thought the boat was taking on water. Keaulana drilled open the boat to find at least 80 gallons of water had seeped into the hulls.
Kainoa Lee
From Hawaii Island
Crew: Second (Tahiti to Hawaii)
The Hokulea was Hawaii's version of the American Bicentennial, Kainoa Lee says. He's referring to the U.S. celebrations in the mid-1970s that paid tribute to the American Revolution. "For Hawaiians, the Hokulea was also a revitalization of a culture. A lot of us local guys that were part of the crew hadn't done long distance sailing. The '76 trip was a new experience," he says.
"One day, Gordon [Piianaia] took the Hawaiian flag down and started to repair it, and I said, 'Hey, Gordon, you look like Betsy Ross, working on the Hawaiian flag.' And, we just cracked up." This led Lee, and fellow crew members Piianaia and Makaala Yates to take a photo reenacting the Americans in the revolutionary war. One held the flag, one held a drum and one held a flute. They felt it was a fitting tribute to the history they were making at the time.
Lee says that attitudes have changed from then to now, bringing attention to the racial tension that was prevalent at the time. "Hokulea is for everyone, not just Hawaiians. A lot of us are chop suey." He emphasizes the importance of this philosophy with the Worldwide Voyage. "It's not just for Hawaii, but for people internationally.
John Kruse
From Kauai
Crew: First (Hawaii to Tahiti)
There was no canoe at the point that John Kruse went to meet Herb Kane at his house in the early '70s. Kane was raising money for the Hokulea project at the time. Kruse says, "Right away, they tell me, 'Oh, you're a carpenter? You can help Uncle Wright Bowman.'"
Kruse met with Bowman, a Kamehameha Schools shop teacher and master builder, and began making Hokulea's steering paddle. "My parents thought 'get a job, go back school,' but we got hooked on meeting Herb, and look what that project has done. It has built canoes through the whole Pacific." Kruse has since helped found Na Kalai Waa O Kauai, The Canoe Builders of Kauai. "Every island has a canoe," he says, "Hokulea is the mother."
Pius "Mau" Piailug, a Micronesian master navigator who became the Polyesian Voyaging Society's first teacher of navigation, once told Kruse, "Everybody can go to sea, but it will take 30 years to really see."
The younger crew members today might have never met Piailug, but the stories of the old ways are being passed down. "Now, we're the elders," says Kruse. "I want to give young people the best foot forward." From Hawaii to Tahiti, they will have storms, rain and doldrums thrown at them, he says. "They're going to go on this adventure and they're going to make their own stories."