Holuakoa Gardens and Café, a Hawaii Island brunch spot with a thoughtful local menu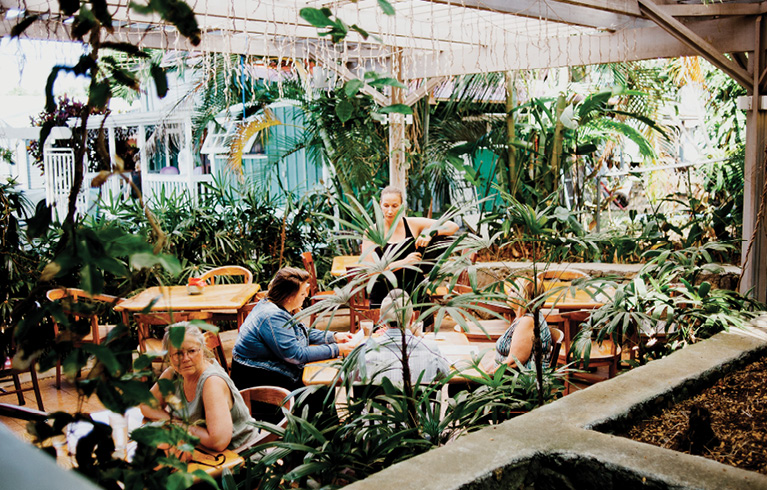 Sometimes the best dining experiences are the ones you least expect, which is what I encountered when I visited Holuakoa Gardens and Café on my visit to Hawaii Island.
I was only there for brunch, after taking a leisurely mid-morning drive about 15 minutes up the mountain from Keauhou Bay. This was the first time I'd been to this stretch of Mamalahoa Highway and was marveling at the views of the ocean peeking through the trees down below, when my friend and I arrived to the little town of Holualoa, known for its art galleries, coffee farms and award-winning restaurant. I'd seen photos of Holuakoa Gardens and Café at night, with its white string of lights dotting the trees and ceilings of its outdoor patios, looking as if the numerous diners were at a garden party I wish I had been invited to. In the daytime, though, the ambiance is a bit more casual, and feels like you're visiting a friend's house, right off the main road, with the café and its big cursive sign visible on the left of the restaurant's pretty and green outdoor grounds on the right.
We were seated in the middle of the garden, a peacefully perfect setting for brunch. The menu is decently sized and includes the usual offerings you'd expect, such as pancakes and steak and eggs, but it's clear while reading the list of menu items that there was a lot of thought put into each dish by the sheer number of details mentioned and local touches added. Among these are the Holuakoa Barbecue Pork Sandwich with Kona coffee barbecue sauce and apple slaw on toasted cornbread, and the Fresh Catch Salad with Big Island fish, Lehualani Farms organic lettuce, cherry tomatoes, cucumbers, grilled asparagus and goat cheese, topped with lilikoi (passion fruit) vinaigrette. I felt healthier just reading it. After much debate, we ended up ordering three dishes to share: the Holuakoa Eggs Benedict, the Braised Grass Fed Brisket and Eggs, and the Toasted Coconut and Macnut Bread-Pudding French Toast, because who can resist a French toast with a name like that.
The restaurant has been open since 2007, led by Barbara Gerrits and her husband-chef Wilson Read, who was trained at the French Culinary Institute in New York. They had taken over the café in 2001, living in a "tiny little shack in the back" when the property owner handed them an opportunity on a plate. "The landlady knew that my husband is a chef, so she built the full-service restaurant around it for him," says Gerrits. Since then, it has been the mission of Holuakoa to source as many ingredients as possible locally. To this day, it is something they've stayed true to. "Almost all of our protein is locally sourced, and probably 90 percent of our produce is all locally sourced here on the Big Island," Gerrits says. "If we can't get it here, we just don't serve it."
The eggs Benedict is sent to our table first, prettily plated. The English muffin is topped with thickly sliced pieces of ham and a poached egg, with fried potatoes and asparagus on the side. Each and every part of this dish tastes fresh and delicious, but it's the buttery and creamy hollandaise sauce that really makes it special. I'm told chef Wilson and his line of cooks make it from scratch every morning it's offered on the menu, but there must also be something to their technique or recipe that's different, because it's the best eggs Benedict I've had.
The brisket, though, is what floors me. Similar to the eggs Benedict, it looks much like you'd expect it to look: cuts of meat with potatoes and two eggs on the side, 'cause, well, it's brunch. But, don't be fooled. It's the tender pieces of meat and its wonderful flavors filling your mouth with each bite that take your senses to another world and back. I couldn't stop eating it, that is, until I was challenged to by the French toast set down in front of me.
I would consider myself a connoisseur of French toast, because I'm that person who orders it if I see it on any menu. It's one my favorite things to eat. And, while the menu has a classic, thick-cut French toast, I couldn't pass up trying the one I've never seen or heard of before, made with bread pudding. The reason being is it's new. While the eggs Benedict and brisket are chef Wilson originals, the Toasted Coconut and Macnut Bread-Pudding French Toast is just a few months old and was created by daytime chef, Dianne McMillen. "We can't take it off the menu," says Gerrits. "Everyone has to have it now."
I pour the housemade coconut-lilikoi syrup over a slice, bury my fork into it and soon understand why. There's a lot going on in one bite. I taste the bread pudding right away and its thick, sweet goodness, along with the crunchy macadamia nuts. The toasted coconut flavors are also strong and feel as if it's competing with everything else, but I like it. The coconut-lilikoi syrup also offers a necessary drop of sweetness. If I didn't just help myself to the brisket beforehand, I could have been able to eat more than the two half-slices I ended up consuming, but it's really filling. Either way, full or not, I keep going back again and again to the brisket, not wanting to waste one tender morsel tantalizing me from its plate.
An important thing to know about Holuakoa Gardens and Café is that the menu changes often, so you'll want to call ahead if you're hoping to try a certain dish and only that dish. The reason for this is the chefs will use every part of an animal, going nose to tail. "That's what drives our menu," says Gerrits. "We'll have pork chops on the menu for a couple weeks, but then you'll have pork roast, then pork shoulder, then ham … every part of the pig is used." This is not only a way for the chefs to change things up and be creative in the kitchen, but it's also a welcome surprise for diners, like me, who happen upon some of the best dishes they've had. It's also a testament to the talented line of people working in its humble kitchen.
---
Holuakoa Gardens and Café • Open for brunch Mon. through Fri. 10 a.m. to 2:30 p.m., Sat. and Sun. 9 a.m. to 2:30 p.m.; dinner Mon. through Sat., 5:30 to 8:30 p.m. • Reservations strongly recommended. • 76-5900 Old Government Rd., Hōlualoa, Hawai'i Island, (808) 322-5072, holuakoacafe.com.
This article was originally published in the March/April 2016 issue of HAWAIʻI Magazine.